How to change the location of PST data file
Problem:
How to change the location of PST data file.
Solution:
CodeTwo Public Folders version 4.5 lets you change a path to the local data file. In the previous versions the file was saved by default on C drive, in Application Data folder of the user currently logged in to the system.
In the current version of CodeTwo Public Folders it is possible to change the location of the PST file. You need to install Outlook Add-in of the program and then follow these steps:
Close Outlook.
Go to Control Panel, choose Mail, Show profiles.
Select the profile on the list, choose Properties, and then Data files.
Select C2PublicFolders on the list and choose Remove.
After removing data file, in the same window click Add button.
In Types of storages field choose C2PublicFolders and confirm.
In the new window (Fig. 1) go to Data file location tab and choose required location of PST file with Browse button.
After confirming the changes you can reopen Outlook - PST file will be located in the new place.
You can delete the previous data file of the program now. The information about the default location of PST file can be found in the article about CodeTwo Public Folders data base.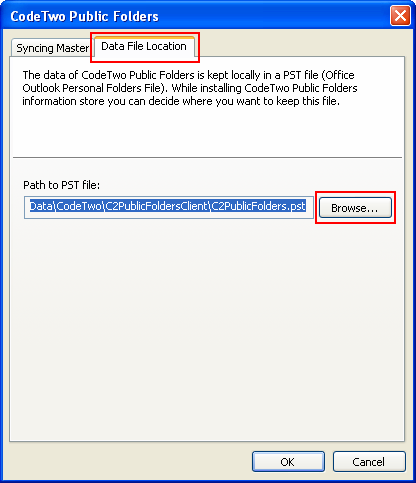 Fig. 1. Data file location tab.
Applies to: CodeTwo Public Folders 4.5
Categories: How-To
Last modified: 2014-10-17
Created: 2009-11-26
ID: 122
Keywords: PST, PST file, files, path, paths, place, placing, locate, local data file, changing