Emails are not sent (550 5.1.8 Access denied, bad outbound sender)
Problem:
When a user sends an email, it does not reach the recipient, and this user gets a non-delivery report with the following error:

550 5.1.8 Access denied, bad outbound sender AS(41000001)
Your message couldn't be delivered because you weren't recognized as a valid sender. The most common reason for this is that your email address is suspected of sending spam and it's no longer allowed to send messages outside of your organization. Contact your email admin for assistance.

Solution:
This error means that Office 365 has added the user to the blocked senders' list because this person's emails have been recognized as spam. This might happen, for example, if the user has sent an email to a large number of recipients, exceeding the limits of the Office 365 plan (you can check the Office 365 sending limits for individual recipients and distribution groups in this Microsoft's article).
To solve this problem, the admin of the Office 365 tenant needs to:
Make sure that the user account has not been hacked or compromised in any way. See this MS article to learn more, or check these guidelines for admins.

If the tenant admin is certain that the account is safe, they need to follow these steps to remove the account from the block list and resume its mail flow:
Open Exchange admin center.
Select protection from the left menu and go to the action center tab (Fig. 1.).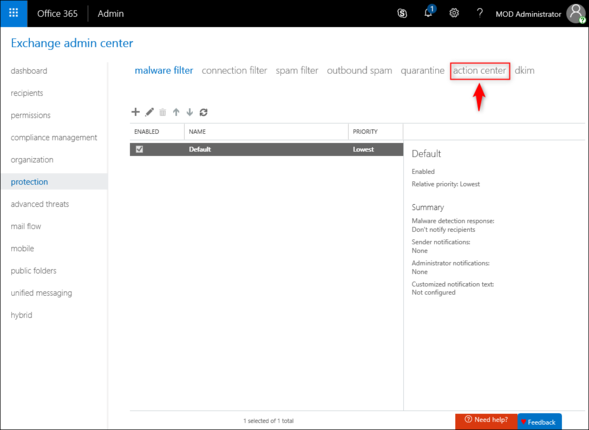 Fig. 1. To see users blocked by Office 365, you need to navigate to the action center (highlighted).
Find and select the blocked user from the list and click the Unblock Account link in the pane on the right.
Click Yes to confirm and wait for the changes to propagate. The propagation usually takes around 2 hours, but if the user sends any emails during this time, it might take longer. After the process is finished, the user should be able to send emails.