Email signatures
on Exchange Server
Set up company-wide email signatures & disclaimers on Exchange Server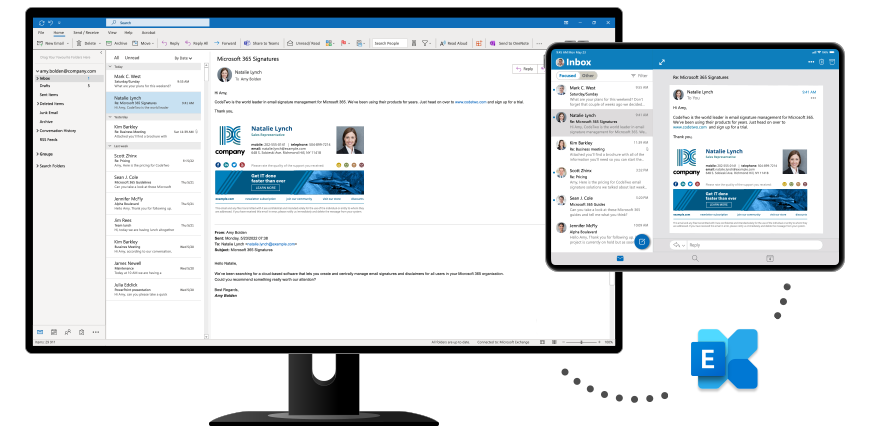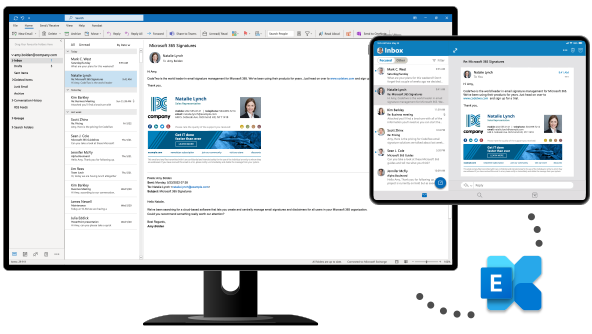 Signature management with Exchange mail flow rules (transport rules)
It is possible to create and manage email signatures for an entire organization in Microsoft Exchange Server. By using the native mail flow rules, you can add email signatures, legal disclaimers or any other information:
| | |
| --- | --- |
| | to every incoming or outgoing message or selected messages/users only, |
| | |
| --- | --- |
| | at the top or bottom of an email, |
| | |
| --- | --- |
| | with personalized content (e.g. sender's information like name, job title, phone number, etc.), |
| | |
| --- | --- |
| | to messages sent from all web, mobile and standalone email clients (like Outlook, OWA, iPhone/iPad, Android, etc.). |
You can also perform many other signature-related actions (some limitations apply).
How to use mail flow rules to add company email signature in Exchange
To deploy a personalized email signature for any scope of users in on-premises Exchange 2019/2016/2013, you need to:
Prepare an HTML email signature template with Active Directory placeholders. You can use any HTML editor or try a dedicated free Email Signature Generator for Exchange Server.
Configure an Exchange mail flow (transport) rule that uses this template.
Limitations of native mail flow/transport rules in Exchange
| | |
| --- | --- |
| | Email signatures are added at the bottom of an email conversation. Exchange Server cannot detect separate emails in an email thread. This means that every time your users send a reply or forward a message, email signatures will end up at the very bottom of a conversation instead directly under the latest messages. |
| | |
| --- | --- |
| | Empty spaces/lines are left in signatures if Active Directory values are missing. This happens if AD variables used in your signature template cannot be filled with sender's data (because certain values were not provided in AD). |
| | |
| --- | --- |
| | Exchanger Server users don't see their signatures. Signatures configured in mail flow rules are added server-side (after a message is sent) and users have no way of verifying if these signatures are added correctly. This causes confusion and may lead to litigation issues. |
| | |
| --- | --- |
| | Exchange Server lets you insert only web-hosted images into email signatures. By default, such images are blocked by email clients and can be subject to network issues on the recipient's or host's side. |
| | |
| --- | --- |
| | Creating or changing an email signature requires system administrator's assistance (which is a waste of time and resources) or direct administrative access to the server (which can pose a security and privacy risk). |
| | |
| --- | --- |
| | No signature template editor available. The native Exchange Server signature input field accepts only raw code. So, if you want to use it, you need to be quite an HTML expert, have knowledge of Active Directory attribute names, and a lot of time for testing... |
These and other limitations can only be overcome by using a third-party software, such as CodeTwo Exchange Rules.
CodeTwo Exchange Rules email signature software – a perfect complement to Exchange Server
You can use dedicated tools to manage email signatures in your Exchange Server organization. Read on to learn how acclaimed solutions, such as products from the CodeTwo Exchange Rules family, can help you streamline company-wide email signature management.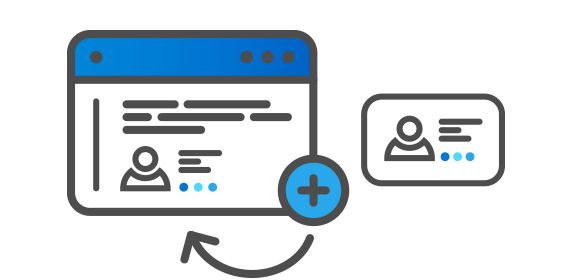 Email signatures placed directly under the latest reply/forward
CodeTwo Exchange Rules uses a unique algorithm to recognize when a new email (including replies and forwards) is added to a conversation and places the signature directly under that email.

Auto-removal of unnecessary lines in signatures
With CodeTwo Exchange Rules, the lines with missing AD data are automatically removed from an email signature.

Signatures visible in users' Sent Items folders
Signatures added by CodeTwo Exchange Rules are also visible in users' Sent Items folders. This way, users can quickly confirm that their signature was added. Emails that contain signatures can be archived for litigation purposes.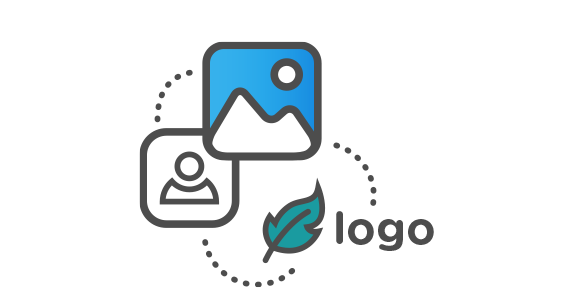 Inline (embedded) images, logos and photos in email signatures
When email signatures are added by CodeTwo Exchange Rules, all images are displayed correctly and show up immediately when you open an email message (they do not appear as message attachments).

Ability to delegate email signature management to non-IT Staff
The remote signature management module of CodeTwo Exchange Rules comes with custom access rights. This allows e.g. your Marketing team to manage all aspects of email signatures, without breaching security or wasting resources.

Built-in WYSIWYG email signature editor
CodeTwo Exchange Rules comes with an easy to use What-You-See-Is-What-You-Get signature editor with a variety of options to customize your signatures. The editor can automatically convert an HTML email signature to the RTF or plain text format (useful for mobile devices and email clients that do not support HTML) and includes a wide library of professional email signature templates.

Email processing features
The Pro version of CodeTwo Exchange Rules comes with additional email flow control features, such as centrally managed out of office messages (auto-replies), advanced email attachment control, sensitive content removal, an unsubscribe mechanism, and more.
Are you interested in organization-wide management of email signatures in Exchange Server?