CodeTwo QR Code Desktop
Reader & Generator
Scan and generate QR codes on your PC

Date Published: 16 Jan 2019
Latest Version: 1.1.2.4
Size: 7.74 MB
---
Supported platforms
Windows Server 2016(1) / 2012 R2 / 2012 / 2008 R2 / 2008 / 2003 R2 / 2003
Windows 10(2) / 8.1 / 8 / 7 / Vista / XP SP3
Support for 32-bit and 64-bit versions
.NET Framework 4.0 or higher required
(1) If you can't find the program after the installation, consult this KB article.
(2) If the program doesn't work after upgrading to Windows 10 from Windows 7 or 8.1, you need to reinstall it.
---
---
Thank you for downloading CodeTwo QR Code Desktop Reader & Generator!
The software you are about to download (CodeTwo QR Code Desktop Reader & Generator) lets you scan QR codes from your desktop and from files. You can also as easily use it to generate QR codes on your own.
Your download will begin in a moment. If it doesn't, click Download
Installation guide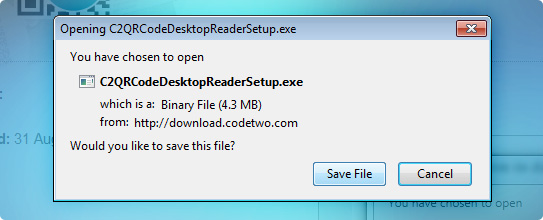 Download and run the installer.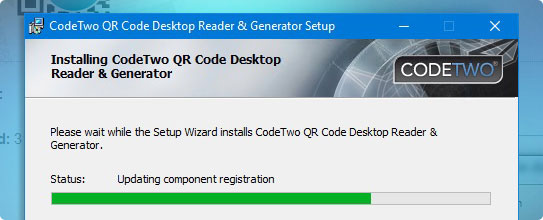 Follow the installation wizard. It's a pure "next, next, finish" installation.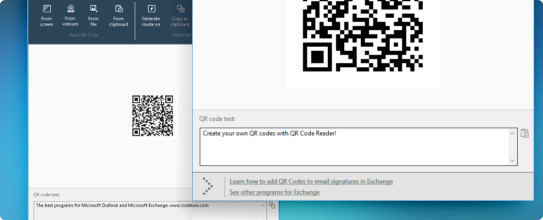 The program launches automatically after the installation. Use it to scan QR codes directly from images or even unopened files! Or code any text you want, so that you can send your vcards or links to others, upload them to your website, or print them.
Using Microsoft Exchange Server?
See how to automatically add QR codes to users email signatures. Add contact cards, links or any other strings transformed into QR codes to message footers and headers. Check out CodeTwo Exchange Rules PRO – a comprehensive administration tool for Microsoft Exchange Server administrators.