CodeTwo Exchange Rules
Email signatures, branding & disclaimers for Exchange Server 2019, 2016, 2013, Outlook & mobiles
Download
30-day free trial with support;
no credit card required
Easy-to-use signature and disclaimer editor
CodeTwo Exchange Rules is equipped with a user-friendly what-you-see-is-what-you-get template editor that will let you compose HTML, RTF and plain text Exchange email signatures and disclaimers without any HTML experience. Take advantage of dozens of pre-configured templates that you can easily customize to create a professional business signature in just a few minutes.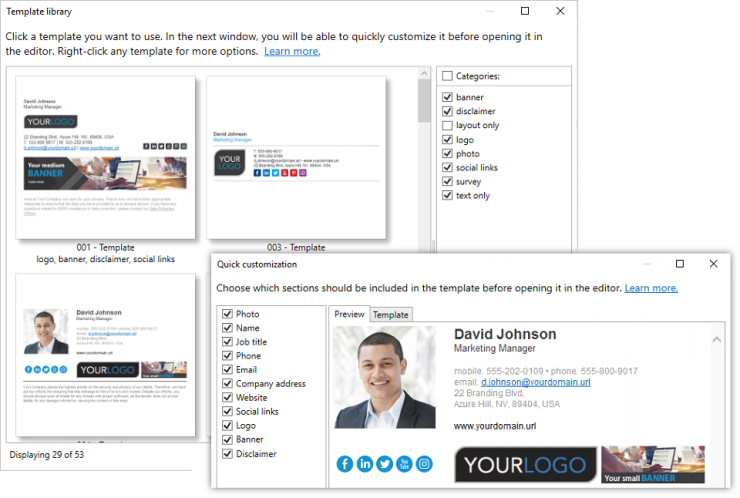 You can use the editor like a typical word processor – add text, images, hyperlinks and change font type and size, color, etc. Furthermore, the editor allows you to add placeholders that will be replaced with users' information pulled from Active Directory, which lets you personalize email signatures.
Some other notable features of the editor include:
Advanced signature positioning options: decide where you want your signatures to be placed in an email thread – below replies/forwards or at the bottom of an entire conversation.
Conditional placeholders: create custom, multivalued placeholders that can be used to further personalize your business signatures. You can for example add additional elements like banners to signatures for selected users only or insert generic data (e.g. company's phone number) in case some data is missing in sender's AD.
Email sections: add marketing banners or other elements to the header or side banners of an email.
The editor can also be used to create and edit plain text disclaimers. You'll find the samples of both email signatures and disclaimers in the template library.
If you need a similar program with the built-in WYSIWYG editor but for Office 365 (Microsoft 365), check out CodeTwo Email Signatures 365.