CodeTwo Exchange Rules
Email signatures, branding & disclaimers for Exchange Server 2019, 2016, Outlook & mobiles
Download
30-day free trial with support;
no credit card required
Different email signatures for different groups of users
CodeTwo Exchange Rules is intelligent and even though it is designed to work automatically, it lets you fully control which signatures get stamped to whose emails. The program is capable of inserting auto-signatures to Exchange messages depending on the senders' and/or recipients' criteria.
The program allows you to setup email rules to stamp signatures depending on:
Sender's or recipient's email address
Domain of the sender or recipient
Message direction (internal, external)
Organization Unit a sender/recipient belongs to
Active Directory Group a sender/recipient belongs to
Active Directory user
Entries in Active Directory property fields
Owing to the above criteria, you can easily manage email rules on Exchange Server and control the use of disclaimers and signatures depending on email senders and recipients. It's possible to setup the program to append different disclaimers for internal correspondence and different if messages are sent outside the organization. Moreover, you can assign different footers for individual employees (e.g. on the basis of their current positions in the company) or for individual departments. Using the same mechanism, you can differentiate your signatures depending on your business clients - the signature may be different for each.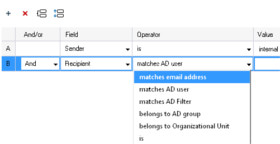 What is more, you can save any of your email signature as a template. When you are happy with you currently designed email signature and you want to keep it for future use, you can save it to the template library and use it for building other rules.
Read more about the criteria of rule selection: