Managing server connections
Once you have configured the connection to your source and target environment, these connections will be shown on the Administration Panel's Dashboard tab, on the Defined source server connections or Defined target server connections cards, respectively. In order to manage the already configured source or target server connection, click the Settings(

) button, as shown in the Fig. 1. below.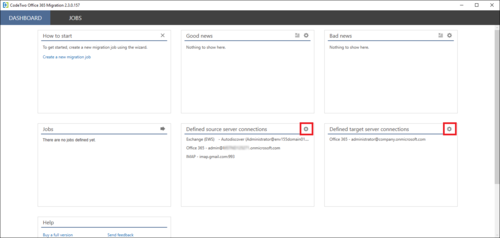 Fig. 1. Managing server connections.
In the window that opens (Fig. 2.), you can now create a new connection, edit the existing one or delete a server connection from the program. Keep in mind that you can only edit or delete a server connection if it is not used in any migration job configured in the program.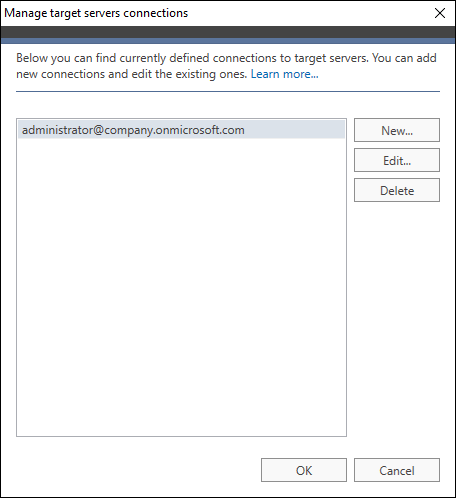 Fig. 2. Managing defined target server connections.
For more information on how to edit the connection, refer to these articles:
Reconfiguring server connections after changing domains
If the migration type that you plan to use involves changing domains on your source or target server, you need to refresh email addresses for mailboxes included in the migration job. But before you do so, it may be necessary to reconfigure server connections by using new account credentials.
To reconfigure a server connection after changing the domain name, perform the following steps:
Keep in mind that the instructions provided below do not apply to IMAP connections.
On the Dashboard tab, click the Settings () button on the Defined source server connections card.
Select your connection from the list and click Edit.
(Applies only to Exchange on-premises server connections) In the Server connection step, depending on how you configured this connection previously, either leave the Autodiscover Exchange Server option selected or provide a new FQDN.
In the Admin account (on-premises Exchange server connection) or Application registration (Office 365 server connection) step, provide new admin credentials (with different UPN / email address).
Continue configuring the connection wizard.
If necessary, apply the same steps to reconfigure the target server connection.
Warning
It is very important that you reconfigure both your source and target connections when you are transferring the domain from your source server to the target one. Otherwise, you won't be able to refresh email addresses, restart the migration job, use the delta migration feature or reset the migration state in the program after the transfer. Learn more.
You can now proceed with refreshing email addresses for your migration job.