Sync Outlook folders with iCloud folders automatically
Testimonials:
" One more note on my experience with your iCloud sync (Outlook plug in) - FRICKING AWESOME! I spent yesterday...many, many, many hours trying to figure it all out. For only $20 You solved my entire issue and I can now use this tool to be highly productive while on the road. THANK YOU! LOVE IT! ROCK IT OUT! "
Jeremy Henderson
" I have been trying to figure this out forever on how to get these two calenders to work with each other. I saw an article on lifehacker.com about you guys. You guys have a great easy to use solution. Many thanks. Stay on top of the new office version that is supposed to come out please!!! "
Justin Adler
" How can this work when the mighty Apple says "too hard". It worked perfectly. Amazing, after many hours trying to solve this. Bravo to CodeTwo! Nice work. "
Al Kovalick
" an now sync Contacts and Calendar between my Ipad, Icloud, my PC with Outlook...and my Blackberry! I had given up after a year of struggle...and all for $20! Thank "
Joel Nuss
" sed this product for my personal Outlook profile and iPhone. The trial period was excellent. No hesitation about recommending to other Apple us "
Lal Dias
Sync Outlook calendars, contacts and tasks with iCloud folders automatically and get all your data propagated between Outlook and iOS devices in real time.
Features

Sync Outlook folders with iCloud folders
- this Microsoft Outlook addin will let you automatically synchronize your Outlook contacts, calendars and tasks with your iCloud data file in Outlook, which will then sync those folders with iCloud and across your iPhone, iPad and other Apple® devices.

No need to save or move items to iCloud tree in Outlook anymore
- once you install iCloud Control Panel for Windows, a new tree of folders is added to Outlook, but your existing Outlook folders are somewhere else. CodeTwo Sync for iCloud will let you keep these folders in sync, so you can finally forget about jumping between the folders and manually copying items to iCloud and back.

One-way and two-way sync
- pick up one of the three sync methods for each of your folders. Sync from Outlook to iCloud, from iCloud to Outlook, or in both directions.
Syncing iCloud with Public Folders supported
- the program will also let you sync CodeTwo Public Folders with iCloud folders, which means that you can now share Outlook with other PCs and with your iPhone and iPad as well.

Automatically sync up your folders in real time
- Outlook folders are synced automatically and immediately in the background. Note! iCloud synchronization with your handhelds depends on iCloud performance and your internet connection speed.

Easy to install and use
- the addin is seamless. Just install it on your PC and follow the wizard. You'll see how easy and quick it is.
- no matter what the reason you can return the product within 30 days of purchase date, no questions asked. Learn more...
How it works
Apple's iCloud feature lets you share your calendars, contacts and tasks across your devices and Outlook. The iCloud addin for Outlook and Windows, called iCloud Control Panel, adds an additional tree of folders to Outlook, which requires you either to move all your folders to the iCloud tree or to manually copy new or edited items to iCloud whenever you need it.
This is where CodeTwo Sync for iCloud comes in. This easy to use Outlook addin will let you automatically synchronize your personal or public folders in Outlook with iCloud folders.
CodeTwo Sync for iCloud installs as an Outlook addin and can be accessed from the ribbon. Simply click on its icon to select Outlook folders you want to sync with iCloud folders.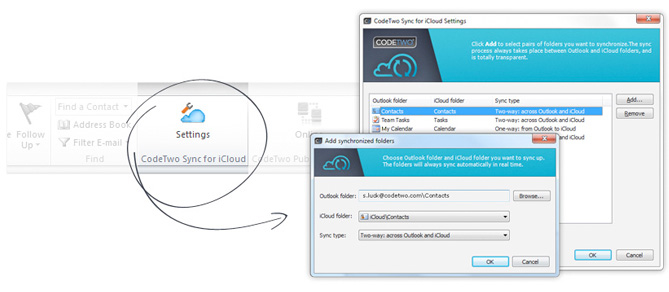 Alternatively, you can also right-click on a desired folder in Outlook and select Sync with iCloud from the context menu. It will let you choose folders for synchronization and select one of the sync types.
Once your pairs of folders are in sync, you can finally view and edit them on any of your Apple® devices and sync them back to your Outlook wirelessly no matter where you are.
Pricing
Take a look at the pricing below for CodeTwo Sync for iCloud. We do not offer technical support for this product.
CodeTwo Sync for iCloud
Trial version
Fully functional for 30 days!
Full version
Sync calendars with iCloud
Sync contacts with iCloud
Sync tasks with iCloud
Technical support

No support

No support

How long can I use it

30 days

Forever

Price

Trial

$20
Note! The trial version of CodeTwo Sync for iCloud is fully functional for 30-days. After this period, the program stops synchronizing your Outlook and iCloud folders. To upgrade to a full version, simply purchase the program and enter a license key that will be sent to you - there is no need to download and install the program again.
Installation and configuration
Here's what you have to do to sync Outlook calendars, tasks, and contacts with iCloud and your iPhone, iPad or Mac.
Make sure you have iCloud Control Panel for Windows installed on your PC equipped with Outlook.
Make sure your Apple® devices are configured to work with iCloud. Learn more...
Download and install CodeTwo Sync for iCloud on your PC equipped with Outlook.
Take a look at the Quick Tour that pops up right after the installation.
Launch Outlook and start syncing your folders with iCloud!