How often do you forget to attach a file to your email? You mention the file you are supposed to include to your message, but you forget to add it before you hit the send button. Only after you realize you've forgotten about the attachment, you already have a reply in your inbox saying:Hey! Where's the attachment? It usually causes a lot of delays and confusion.
CodeTwo Outlook Attachment Reminder is a free and easy to use Microsoft Outlook add-in which will prompt you to attach files to your email if it seems you have forgotten to do it. The program quickly scans your message right after you click the send button and checks it for predefined keywords that trigger an alert.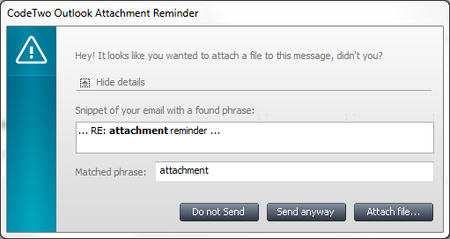 Once you are prompted to add attachments, you can browse your computer for desired files and include them to your email, or you can decide to send the message without any attachments.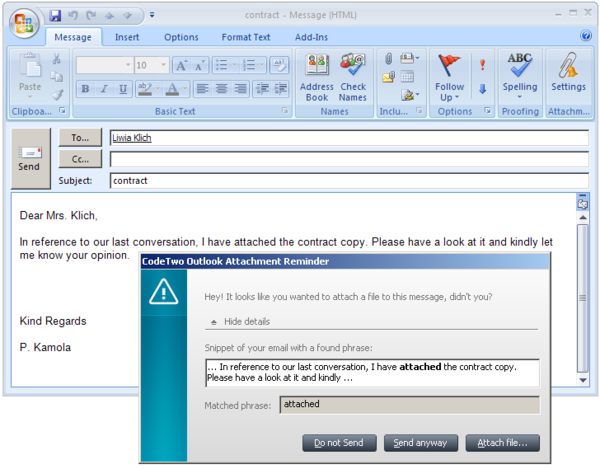 Installation and configuration
Download the installer and launch it on your computer. Make sure Microsoft Outlook is closed prior to installing the program. Once the program has been installed on your machine, it is ready to scan your outgoing Outlook email and alert about missing attachments.
To change program's settings, open Outlook and click on the program's icon on the ribbon.
In the resulting dialog box you can:
select whether the program should scan email, body, subject or both
add, delete and edit phrases that trigger an attachment alert
edit a text of the alert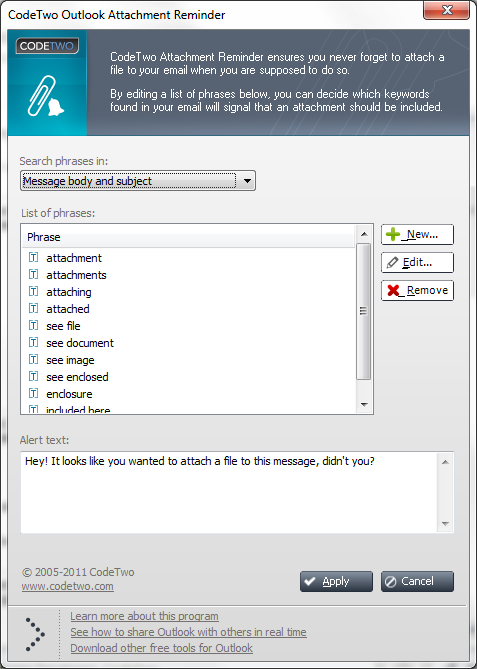 Key features
Alert messages - the program informs you to attach files if it looks like you wanted to do it but didn't.
List of phrases that trigger the reminder included in the default version. You can start using the program right after installing it. There is no need to setup anything - it's an install-and-forget application.
Customizable keywords' list. You can easily edit existing keywords or add your own ones to adjust the program to your requirements.
Message history / quoted text exclusion. This feature ensures you that only your own message is scanned by the program. So if you compose a reply, the program will not search for user-defined keywords in the history of the message but only in your new text.
Option to scan email body and/or subject. You can decide if the program scans your email body, subject or both.