Choosing synchronization mode
CodeTwo Outlook Sync has two modes for syncing Outlook data between computers:
Tip
If you do not have CodeTwo Outlook Sync program opened, you can run it from Start Menu by opening the CodeTwo folder and choosing Outlook Sync. Please also check if there is an Outlook Sync icon in your tray (the bottom right corner of your screen) - if so, simply click it to restore the program.
Manual synchronization is useful when you need to have a full control over your data flow between your two machines. You only synchronize your Outlook items from time to time when you are sure this is the right moment for the synchronization. Furthermore, this type of synchronization is on the user's demand so needs to be triggered each time manually.
By default, the program is set to synchronize data manually (Autosync is switched off), and therefore you can only synchronize Outlook folders when you click the Sync button in the Administration Panel (Fig. 1.).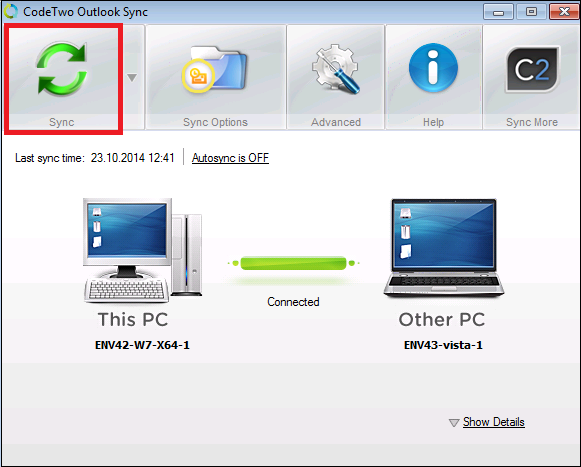 Fig. 1. The Sync button in CodeTwo Outlook Sync.
Automatic synchronization is suitable for those who need to have selected Outlook folders (or entire Outlook PST files) look equally the same and contain the same number of items all the time. It is useful for little teamwork scenarios where two people work on two computers and need to have their Outlooks synchronized in real time. It is perfect when you want to sync Outlook with, e.g. your co-worker, assistant, or need to back up your data to your second machine. Furthermore, this feature once enabled, keeps data on both machines constantly up-to-date and does not require any action from users.
You can activate / deactivate the Autosync feature in two ways:
Click Autosync link in the program's Administration Panel (Fig. 2.).


Fig. 2. Switching Autosync on or off.

Click Advanced in the Administration Panel and check / uncheck Autosync in the pop-up window (Fig. 3.).


Fig. 3. Enable/disable Autosync.
See next
Advanced settings - in this article you will learn how to adjust the application's startup, enable / disable Autosync feature and select the port that will be used for communication between machines included in the synchronization group.