Email layout
The content composed in the Editor is not limited to signatures or disclaimers. You can also insert and design other email sections: side banners and a top (header) section. These sections can be used as additions to your signature/disclaimer (Fig. 1.) or they can replace it. The Email layout group on the Editor's ribbon (highlighted in Fig. 1.) allows you to decide which sections should be added to your emails.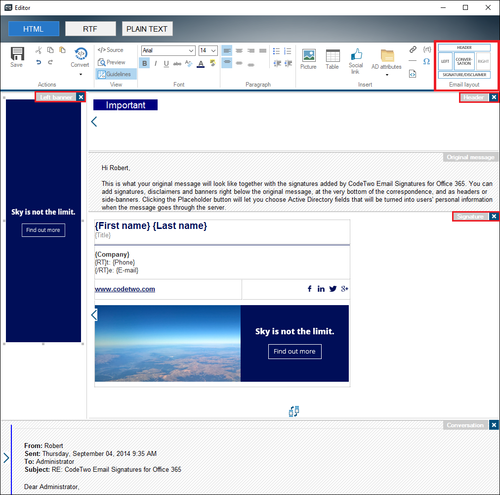 Fig. 1. Use the Email layout buttons to add email sections (here: signature, left banner and header).
To add an email section to the Editor, click an appropriate button in the Email layout group and compose your section. To remove an email section, click (deselect) the corresponding button on the ribbon or use the Remove (

) button in the upper-right corner of this section.
Tip
The Editor saves the composition of the removed section in case you want to add it again.
Click the Conversation button in the middle of the Email layout group if you want to preview the appearance of all composed elements in an email conversation. In the example above (Fig. 1.), a header, signature and left banner are composed.
Use the arrow the arrow (

) buttons (see Fig. 1.) to modify the width of email sections. These buttons are only visible if you add side banners. If there are no side banners, a header/signature has the same width as the original message. Learn more
You can change your signature into a disclaimer and vice versa, via the Change (

) button at the bottom of the signature/disclaimer section (see Fig. 1.). Learn more
Important
The available layout options depend on the format of your content (learn more about message formats). For example, side banners can be composed in HTML only.
Depending on the CodeTwo software that you use, the Settings (

) button might be displayed in the upper-right corner of each email section (see Fig. 2.). This button allows you to configure additional options. For more information, see this article.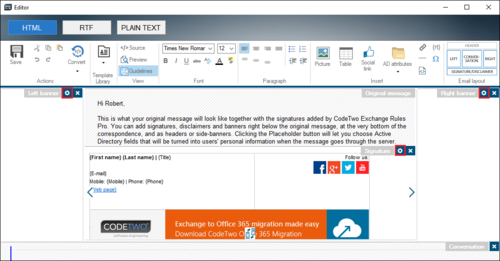 Fig. 2. The email section settings' buttons in the Editor (CodeTwo Exchange Rules).