This manual refers to an old version of CodeTwo Office 365 Migration. Go here if you use the latest version.
Scheduler
The scheduler feature (Fig. 1.) allows you to set the time frames for the migration. With this feature, you can plan the migration ahead and choose the most convenient times for running the migration job. Since migration is often extremely time and resource consuming, you may want to run it outside the company's operating hours. When the scheduler is set, you don't need to be present to start, continue or finish the job.
Important
The machine equipped with CodeTwo Office 365 Migration needs to be turned on, and the Administration Panel of the program has to be running during the scheduled migration. Otherwise, the migration job will not be initiated, and the migration will not be performed.
Be advised that the scheduler is designed to start or continue a job, but not to rescan it. Therefore, if new items appear in the source environment, a job started by the scheduler will not migrate them.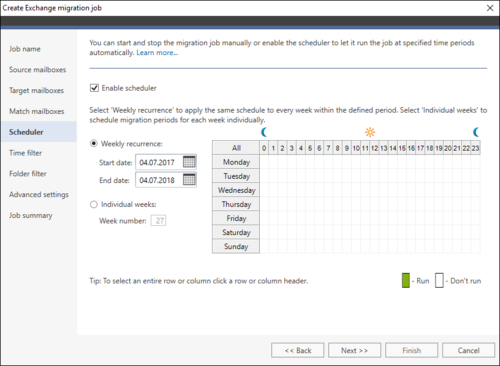 Fig. 1. The Scheduler step.
The migration can be scheduled in two ways:
In a weekly recurring pattern - the migration will be performed in batches within the chosen start and end dates.
Within the individual week - the migration will be run within the specified week (Week number).
No matter which option you choose, you can specify the exact days of the week and the hours when the migration job runs.
Info
The smallest unit of time available in the scheduler's calendar is one hour.
The Scheduler step is a part of the migration job wizard. You can access this wizard at any moment by clicking Edit on the Jobs tab (Fig. 2.).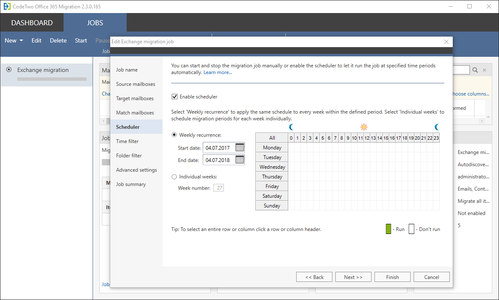 Fig. 2. Opening the Scheduler step.
In the window that opens, mark the Enable scheduler checkbox. Next, decide whether you want to schedule the migration in weekly recurrence or on an exact week (Fig. 3.).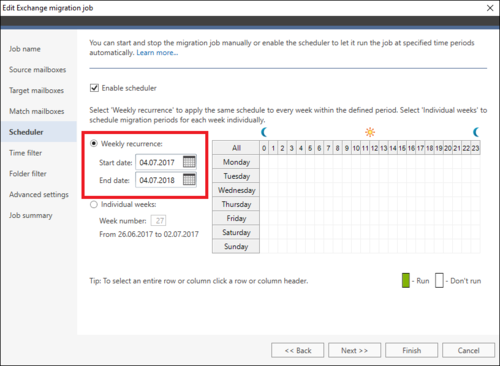 Fig. 3. Setting migration time pattern for weekly recurrence.
Then, choose the days and hours on the calendar (Fig. 4.), and you are ready to go.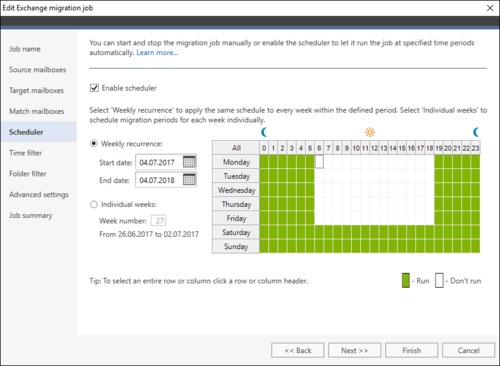 Fig. 4. Scheduler - choosing days and time on the calendar.
Tip
You can select the days and hours in three ways:
First, you can highlight individual days one by one by clicking corresponding cells on the calendar.
Second, you can highlight an entire row or column by clicking the corresponding header.
Finally, you can also highlight all the cells on the calendar by clicking the All button located in the upper-left corner of the calendar.
To unmark selected cells on the calendar, repeat the actions above.
The scheduler status is always displayed on the Job summary card of every job (Fig. 5).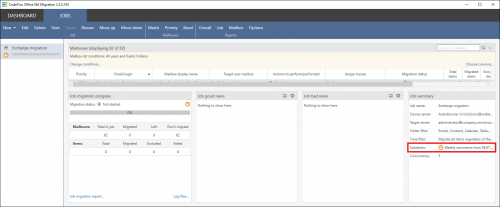 Fig. 5. The scheduler settings displayed in the job summary.
See also
Advanced settings and options - this article describes additional options that improve the migration process and let you take control of the mailbox items that will be migrated.