Upgrading to the latest version
While upgrading CodeTwo Public Folders to the latest version, remember to first upgrade the Syncing Master and then go on to upgrade all Outlook Add-ins installed in the network. If you fail to perform this operation, the data on some computers may not synchronize as the older (or newer) version of the add-in will not be able to connect to a newer (or older) version of the Syncing Master.
Upgrading CodeTwo Public Folders on a selected computer is very simple. Just
download the latest version of the installer
from our website and run it. The whole upgrade procedure will proceed automatically and requires no further steps.
If you are already using the
full, activated version of the program
, do not worry - after upgrading the program will stay activated and you will not need to reactivate it. All data and settings in the program will be kept too.
On running the installer file on the computer that already hosts an older version of CodeTwo Public Folders the following screen will display (
Fig. 1
):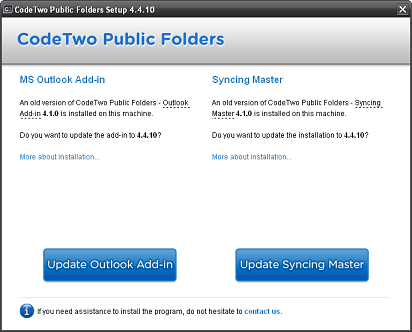 Fig.1. Upgrade screen of CodeTwo Public Folders.
To upgrade the Syncing Master, click
Upgrade Syncing Master
button. If you want to upgrade the Outlook Add-in, click
Upgrade Outlook Add-in
button.
And that's it. The program will update on this computer.
Remember that upgrading the program to a newer version that has a different initial number may be payable, for example an upgrade from 3.x to 4.x. Point upgrades (within the same version number e.g. from 4.0 to 4.5) are free of charge. The current information on upgrading and pricing can be found in the
pricing section for this application
.