How to create a new public folder (Outlook 2003/2007)
If you don't use the
Folder List
view in the left pane, at first it may be difficult to notice the public folders in Outlook. Below we present a short description of how a new folder is created in the public folders and how data can be shared with other network users.
It is necessary to read this text if the
Unable to create the folder
error message appears when creating a folder.
1.
Display the list of all folders available in the current profile. To do this, choose
Folder List
from the
Go
menu or press
Ctrl+6
. The
Folder List
view is very similar to the
Mail
view (
Ctrl+1
). In both views the hierarchical structure of folders is displayed, but in the
Mail
view only mail folders are displayed, so in that view you can't see other types of folders, such as calendar, contacts, tasks, etc.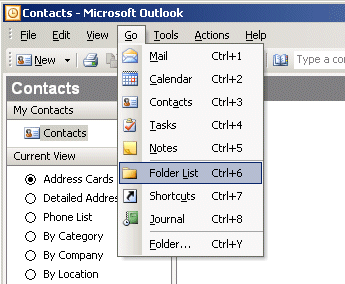 2.
The new tree of folders called "C2PublicFolders" will appear on the folder list; these are public folders with the data shared by network users. If no public folder has been created so far, only two folders will be available on the list: "Deleted Items" and "Search Folders".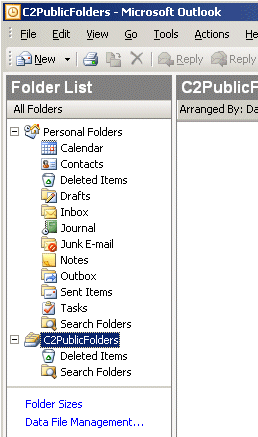 3.
To create a new folder, click with the right mouse button on the "C2PublicFolders" root folder and choose the
New Folder
option from the popup menu: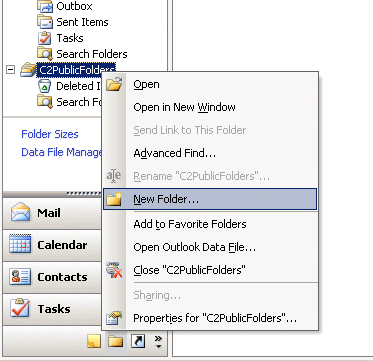 4.
A dialog box in which you can create a new folder is displayed. Enter the name of the folder and select its type. In the figure below a folder of the calendar type called "Company calendar" will be created. Click
OK
.
Make sure that on the
Select where to place the folder
list the "C2PublicFolders" folder is selected (as shown below). If not, the
Unable to create the folder
error message may appear.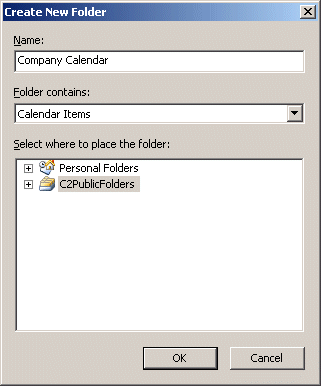 5.
The new public folder will be added to the tree of public folders. Now you can create new items within that folder and they will immediately become available to other network users who use CodeTwo Public Folders: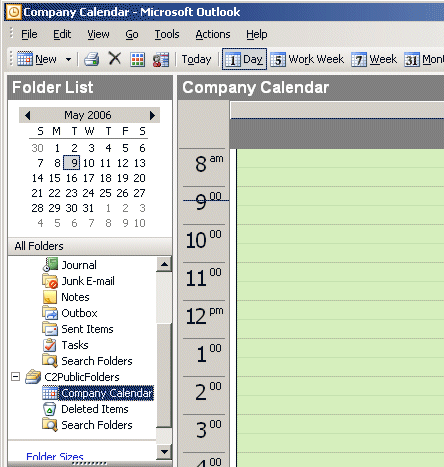 6.
If you change to the view displaying a certain type of folders (here: calendars), you will see the newly created folder on the list: