Recurring items
CodeTwo Out Of Office Manager lets you centrally manage auto replies for employees within your organization. Furthermore, if some of your users are out of office on a regular basis, you can make use of the built-in Recurrence editor. This feature enables setting the recurrence patterns for auto replies depending on your needs using the following options (Fig. 1.):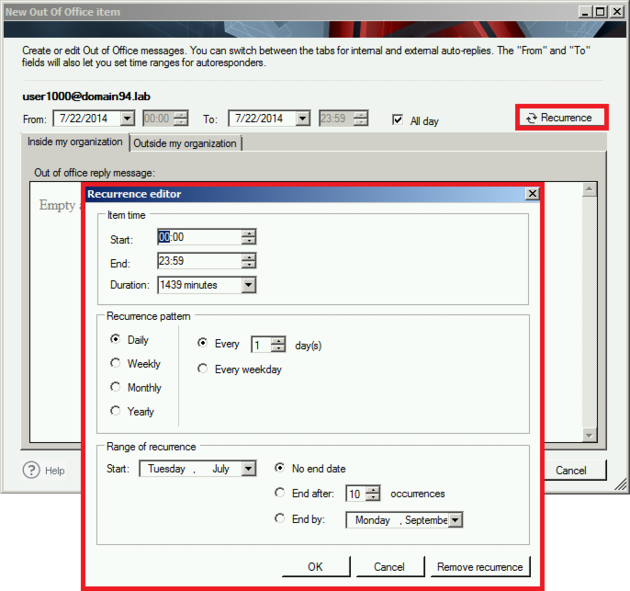 Fig. 1. Setting recurrence of auto responders.
Item time
This section enables definition of the Start and End dates of the auto responders. Additionally, you are also able to specify here the Duration of the recurring item using: minutes, hours, days and weeks (Fig. 2.).
Note that once you change the Duration value, the End field's value will be automatically adjusted to the value specified in the Duration field.
The settings defined in the Item time section will replace time frames of the original auto replies set in the Edit Out of Office Item window.

Fig. 2. Setting the recurring item time frames.
Recurrence pattern
Within this section, you can define how often the auto replies will be sent (Fig. 3.). You may configure the auto responders to be processed:
Daily,
Weekly,
Monthly,
Yearly.
Besides that, you can additionally define the Out of Office messages to be sent either Every weekday or Every [x] day(s).

Fig. 3. Setting the items' repeatability pattern.
Range of recurrence
This section enables you to set up the time frames within which the Out of Office messages will be sent (Fig. 4.). Thanks to this feature, you can define:
set the exact Start and End date of the recurrence pattern,
the number of recurrences,
configure the auto replies to be processed continuously without any definite End date.

Fig. 4. Setting the time frames for the items' recurrence.
Please note that if there's a recurring item created in Outlook, which recurrence is no longer necessary, you may use the Recurrence editor to remove the recurrence via the Remove recurrence button.