Categories
Each appointment can be tagged with an unlimited number of categories to describe its nature. To assign a category, create a new appointment or open an existing one, and click the 'No category' area in the lower part of the dialog box. A dialog box showing the available categories will display (
Fig.1
) . The categories that will be added to the appointment must be checked. Then press
OK
.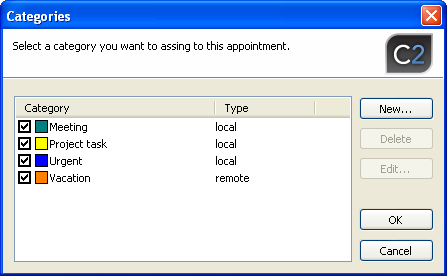 Fig.1. The category dialog box lets you tag appointments with color categories as well as create new categories, edit them and delete.
The
New
,
Delete
and
Edit
buttons are used to edit the category list, create new ones and change the color scheme of the existing categories.
All categories are divided into '
local
' and '
remote
'. Local categories are those created on the local machine by CodeTwo NetCalendars. Remote categories have been created on other machines whose calendars we use. The remote categories are pulled from the remote computers along with the appointments they belong to. When we change the color of a remote category, it becomes local and will not change is color scheme during the synchronizations that will follow even if the color is changed on the remote machine where the category originated. If we delete a remote category, it will appear again during the next synchronization with the remote machine when a new or changed appointment is synced that is tagged with this category.