Installation and Upgrading
Installation of CodeTwo Exchange Rules PRO
The program is designed for computers hosting Microsoft Exchange 2007, 2010 or 2013 responsible for processing mail in an organization.
CodeTwo Exchange Rules PRO
processes messages according to the set rules at the server when they are travelling via Exchange 2007/2010/2013. The application must be installed on a machine equipped with Microsoft Exchange Hub Transport (Exchange 2007/2010) or with Mailbox role (Exchange 2013).
This version of software is NOT compatible with versions of Exchange Server prior to 2007. If you require signatures/disclaimer management in Exchange Server 2000/2003, go to
CodeTwo Exchange Rules
.
The installation of the software is very straightforward and will occupy a maximum of 60 seconds. The installer will ask you to accept the licensing agreement and choose the location for the program files. By default, the program is installed to
C:\Program Files\CodeTwo\CodeTwo Exchange Rules PRO
(
Fig. 1.
).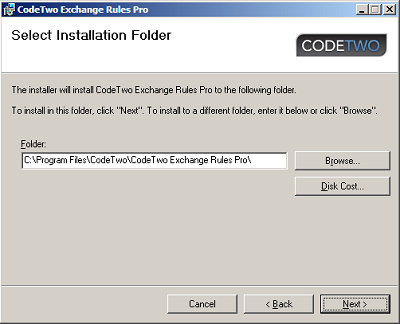 Fig. 1. Choosing the location for the program to be installed in.
Remember NOT to install the program on a shared or mapped disk. It MUST be installed on a local disk. While the program is installed
Microsoft Exchange Transport
is stopped.
Earlier versions of CodeTwo Exchange Rules
CodeTwo Exchange Rules PRO
is a separate application from
CodeTwo Exchange Rules 2007
,
CodeTwo Exchange Rules 2010
and
CodeTwo Exchange Rules 2013
and it cannot be treated as an upgrade. If these applications are already installed on your Exchange Server you can install
CodeTwo Exchange Rules PRO
but you need to make sure that the programs are not set to perform the same jobs.
CodeTwo Exchange Rules PRO
comes with
Settings Copy Tool
installed together with the program. It will let you copy the settings from CodeTwo Exchange Rules 2007, 2010 or 2013 in a single click.
If the demo version cannot be used for test purposes in your environment, please contact our
customer support team
to receive more information on how to remove the limitation.
Activation of the Trial Version to Full Version
To activate the trial version of the program, the license key must be purchased and used to activate the trial.
Read more
.
Deployment of CodeTwo Exchange Rules PRO in Multiple Server Environment
If in the organization there are several Hub Transport servers, the program must be installed based on how messages are routed on the server. If all messages are processed by a single Hub/Mailbox server, the program will need to be installed on this machine. If, however, messages are sent via multiple Hub/Mailbox servers, the program needs to be installed on each of them. In addition, the rules must be then configured in the way that will prevent the addition of the disclaimer multiple times to one message while it travels between servers.
If the program is installed in a cluster environment, each node must be equipped with a separate installation of
CodeTwo Exchange Rules PRO
, as each node is treated as a separate machine. Therefore in an Active\Passive cluster, the program must be installed and activated on both physical machines separately. A single License Key will activate only one server - it cannot be used to activate both machines at one time.
Remember that the application MUST NOT be installed on a shared disk; it must be installed on a local disk on both nodes.