Plaintext
The template editor tabs are located above the main toolbar. Switching the tabs allows you to edit the template of different message formats: (
HTML
,
RTF
, and
Plaintext
). After switching to the Plaintext tab, the toolbar should look like below (
Fig.1.
).

Fig.1. Template Editor toolbar after switching to Plaintext.
Toolbar
.
All options in the template editor are available from its toolbar. The toolbar is divided into sections.
1.
Action
This section consists of one button -
Save & Exit
. Use this button to save the changes in the editor to make sure they are reflected in the messages (
Fig.2.
).

Fig.2. Save & Exit button.
2
.
Signatures
CodeTwo Exchange Rules PRO
can be used to insert disclaimers/ signatures / banners above the body of the message and below it. The Signature sections enables the user to build the templates for each location of the signature. In order to compose the signature in the selected place in the message you need to check the appropriate box (
Fig.3.
). If any of the fields is left empty, the signature template is not defined for this area.

Fig.3. Signature section in the toolbar is used to switch the template views.
3
.
Insert
Insert
is used to add dynamic fields from Active Directory (
Fig.4.
).

Fig.4. Insert section is to insert AD fields to templates.
Dynamic Fields
CodeTwo Exchange Rules PRO
can be used to insert dynamic data from
Active Directory
.
Active Directory
fields are defined on the server and available by clicking
Start
,
Active Directory Users and Computers
in the Users tree. Each user can have entries with their unique personal data, contact data, position, and common data related to multiple users or their department. The data is pulled by
CodeTwo Exchange Rules PRO
and inserted into the signature. To set the program to add data from
Active Directory
choose the fields from the
Dynamic Fields
menu (
Fig.5.
).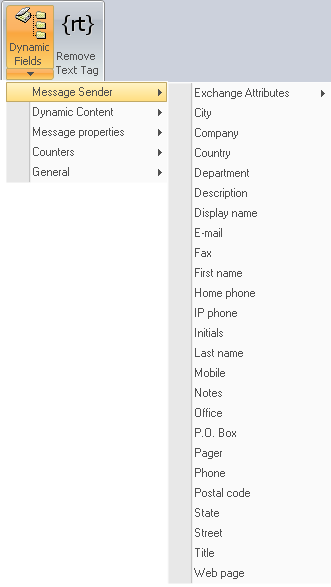 Fig.5. Expandable Dynamic Fields menu in the Insert section.
The template can also use other dynamic data such as animated images as well as messages related data such as sender address, message subject, information on the server processing the message or message ID. The program can add in the signature a counter as well as date and time for the sent message.
Remove Text Tag
Remove Text Tag option is used to hide the empty gaps in the signature if data is missing from Active Directory. For example, if the signature template includes a dynamic field to fill with the phone number of employees and it turns out that selected employees do not have an assigned phone number in the Active Directory, the field will be empty in the signature, which will produce an empty line, unless you use Remove Text Tags in the template. Surround the dynamic field together with the conductory word (e.g. Phone:) with Remove Text Tags to make sure gaps never appear in the signature (
Fig.6.
).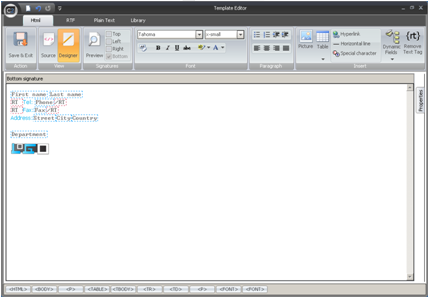 Fig.6. Example use of Remove Text Tag.