Signature template library
Instead of creating new signature/disclaimer templates from scratch, you can choose it from the variety of predefined templates and adjust it to your needs. The ready-made templates are available via the signature template library (Fig. 1.), which is an integral part of the signature template editor.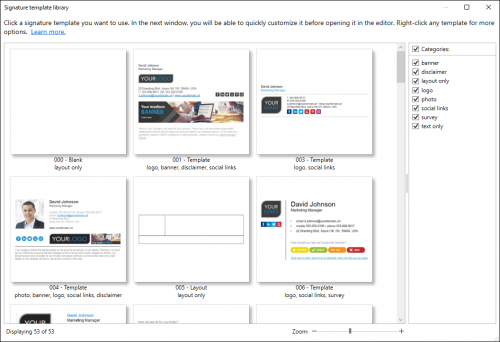 Fig. 1. The signature template library.
You can access the signature template editor from the Administration Panel after adding one of the following actions:
to your rules and clicking Edit. If you have not created any signature yet, the editor opens with the signature template library (Fig. 1.). You can also access the template library any time later, by clicking the Open button on the editor's ribbon (Fig. 2.).


Fig. 2. Opening the signature template library from the editor.
Learn more about using the signature template library in the CodeTwo Signature template editor - User's manual.
See also
Signature template editor - learn more about the built-in editor that lets you create signatures, disclaimers and other email sections.
CodeTwo Exchange Rules Converter - find out how to migrate your custom signature templates saved in the signature template library to Office 365 (Microsoft 365) and use them with CodeTwo Email Signatures for Office 365.