Statistics Of Processed Mail
CodeTwo Exchange Rules 2003 includes a statistics tool that enables storing information about the mail traffic traveling through the Exchange Server. The statistics tool lets you keep track of parameters like
the number of messages processed by the server (i.e. outgoing messages, as well as incoming and internal messages),
the size of all or individual messages,
the number of messages sent and received by individual users,
the number of attachments enclosed to all or individual messages
and, the name of the rules that have been applied for messages.
By default, CodeTwo Exchange Rules 2003 keeps statistics of Outgoing messages and is set to store messages for 30 days. To change these settings, choose
Tools
from the top menu, and click
Statistics
(
Fig.1
).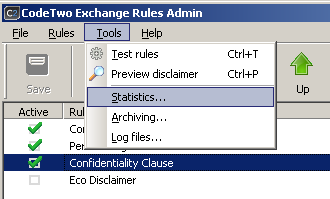 Fig.1. Statistics in the Tools menu.
The
Statistics
dialog box will display (
Fig.2
) where you can configure this tool.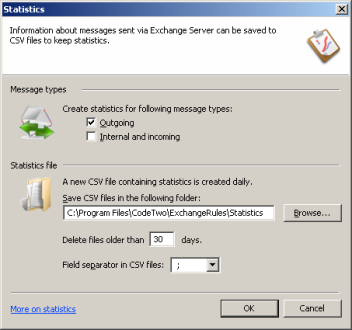 Fig.2. The statistics tool.
CodeTwo Exchange Rules 2003 lets you turn the statistics on for the following messages:
Outgoing
Internal and Incoming

You can choose to turn on the statistics for one type of messages, both or none.



The statistics tool does not distinguish between incoming and internal messages; they must be treated as one.

Statistics are saved as text files in CSV format (comma separated values), which can be read by Microsoft Excel and other spreadsheet applications. In Save CSV files in the following folder you can specify the location of the folder storing the statistics. By default, this is the Statistics folder in the installation folder. Each line in a CSV file is related to one message processed by the server. The following information is stored:

| | |
| --- | --- |
| 1. | Subject |
| 2. | Received date |
| 3. | Sender's address |
| 4. | Recipient(s)'s address(es) |
| 5. | Message size |
| 6. | No. of attachments |
| 7. | List of attachment file names |
| 8. | Type of message (outgoing or internal/incoming) |
| 9. | List of applied rules |

A new statistics file is created daily. The file name format is YYYY.MM.DD.csv, where Y is the year, M the month, and D the day on which the file was created. This means that each day will have one corresponding statistics file. You can configure the tool to automatically delete old CSV file in Delete files older than option. Just choose the number of days you want the statistics to be kept.

Field separator is CSV files option lets the user choose the character the program will use to separate data in entries. The semicolon is the default separator.



The changes made to the statistics will become effective with the next processed message.