Archiving Server-Processed Mail
CodeTwo Exchange Rules 2010 lets you archive mail processed by the Exchange 2010 server in EML Or TNEF format. It also enables choosing the location and name format for archive files. You can archive all mail traffic (regardless of the footer being addend or not), namely messages sent outside the organization, internal messages and incoming ones. To view the archiving tool, in the main program screen choose
Tools
and
Archiving
.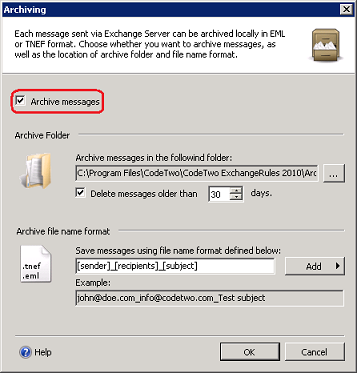 Fig.1. Archiving Server-Processed Mail activation.
Location of Archive Folder
Archive folder section appears dimmed as long as you do not choose to archive your messages. When we have checked the option to
Archive Messages
, you can make changes to Archive folder section. In this section you can choose the location for archive files. By default, the messages are stored in the installation folder in the
Archive folder
. To change the location of the archive folder, click
Open
and choose the destination folder or create a new folder by clicking
Make New Folder
, specifying its location and confirming with
OK
.
Removing Old Messages
The archive folder stores messages processed by the server. But the mail server may process thousands of messages daily and with each message a new archive file is created. To avoid cluttering your archive folder, use Remove old messages option. To have the old messages removed automatically, checked the box
Delete messages older than X days
and specify the number of days after which the messages will be deleted (
Fig.3
). If the option is cleared, the program will never remove old messages.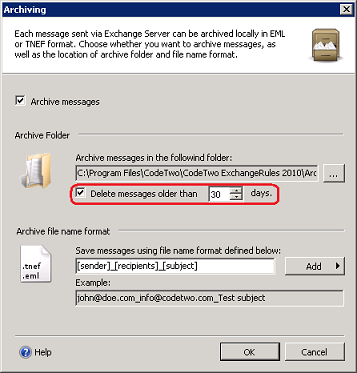 Fig.2. Specifying the number of days the messages are kept in archives.
Archive File Name Format
The messages are archived in EML files. In
Archive file name format
you can choose the name format for archive files. The name can contain the sender, recipients, and message subject. By default, the archive file name format contains all three variables. You can remove the redundant variables by erasing them from the field specifying the format name. To add variables to the file name format click
Add
and choose the appropriate placeholders. The file whose name format includes the Sender, Recipients, Subject will look as follows:
John.doe@company.com_jane.doe@company.eu_subject.eml
If there are two or more recipients to a message, the file will list only the first recipient while the remaining ones will appear as a number:
A message sent to 2 recipients will look as follows:
John.doe@company.com_jane.doe@company.eu,(+1)_subject.eml
A message sent to 3 recipients will look as follows:
John.doe@company.com_jane.doe@company.eu,(+2)_subject.eml , etc.
To keep the changes, click
OK
in the Archiving dialog box and remember to click
Save
in CodeTwo Exchange Rules toolbar.

EML files can be opened using Outlook Express. Microsoft Outlook does not support such files, though.