If you are using CodeTwo Exchange Rules 2010 version 1.x or older, please consult this User's Manual.
Remote Access
It is possible in
CodeTwo Exchange Rules 2010
to manage the program remotely.
Remote Access
allows you to configure the program without physical access to Exchange Server. For example, the server installation can be controlled from another non-Exchange server or even a desktop computer. This means the Administrator can allow the Marketing Department to remotely configure the rules related to an advertising campaign and compose the banners that will be added by the program on the server. It is possible to set specific access rights for individual users and groups for enhanced control of the modifications that can be introduced by non-admin users.
In order to remotely connect your desktop to a server it is necessary to download and install the
desktop version
of the program on your machine. To do that, click the following
download link.
To enable and configure the remote management of the program click
Settings
on the main toolbar and choose
Remote access
(
Fig.1.
).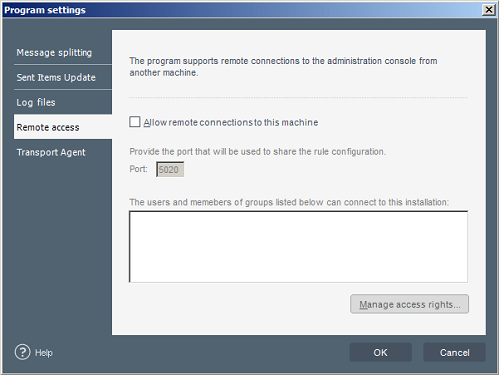 Fig.5. Remote access window.
To enable the remote connection to the administration panel check the
Allow remote connections to this machine
box. Then choose the port used to share the rule configuration. By default the port is set to
5020
.
Next, specify users or group members that will be able to connect to the administration panel by clicking
Manage access rights
. In the dialog box that shows, click
Add...
and choose between
Domain user...
,
Domain group...
and
External user...
(
Fig.2.
).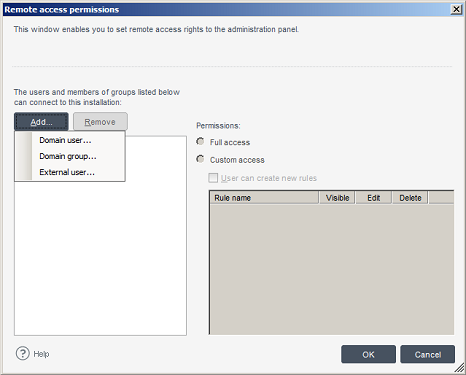 Fig.2. Remote access permissions window.
To authanticate a user who is neither a domain member nor belongs to any of its groups click
External user
, provide the name and password and choose
OK
(
Fig.3.
).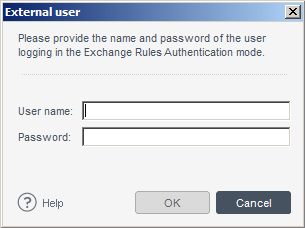 Fig.3. Defining the external user.
To configure the selected users' permissions to the program's administration panel check
Full access
or
Custom access
permissions. In the custom option you can decide whether to grant users rights to see, edit, remove or create new rules (
Fig.4.
).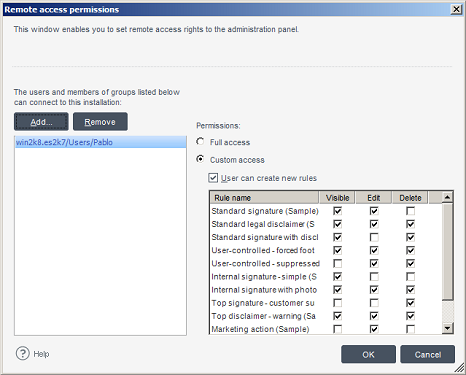 Fig.4. Setting users permissions.
To accept changes click
OK
and save the permissions by clicking the
Save
button located in the toolbar of the program's main window (
Fig.5.
).

Fig.5. Saving the introduced changes.

Remember that the only way to connect your desktop to a remote server is downloading and installing the
desktop version
of
CodeTwo Exchange Rules 2010
on your machine directly from this
download link.