If you are using CodeTwo Exchange Rules 2010 version 1.x or older, please consult this User's Manual.
Settings
To change settings of the program including
Message splitting
,
Sent Items Update
,
Log files
,
Remote access
and
Transport Agent
click
Settings
located in toolbar of the program's main window. The following window will appear (
Fig.1.
)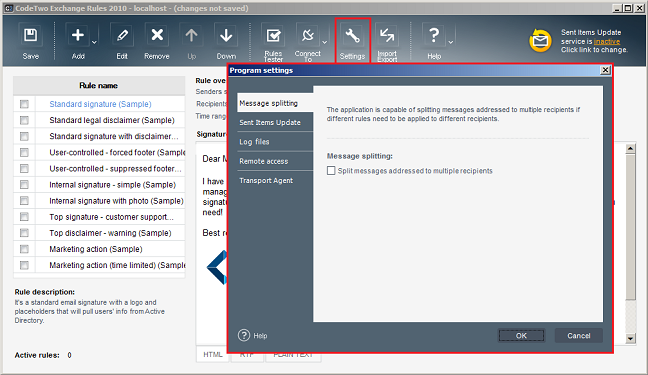 Fig.1. The Settings window.
Message splitting
option enables to split messages sent to multiple recipients when different rules need to be applied to different recipients. To enable message splitting check the box provided (
Fig.2.
).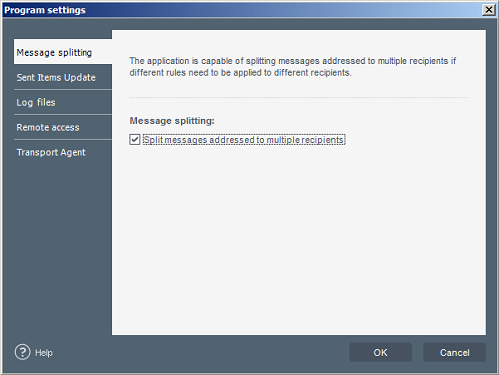 Fig.2. Message splitting configuration.
Sent Items Update
enables end users to see in their mail client how the messages look after processing by CodeTwo Exchange Rules 2010 and how they appear at the recipient's machine (
Fig.3.
).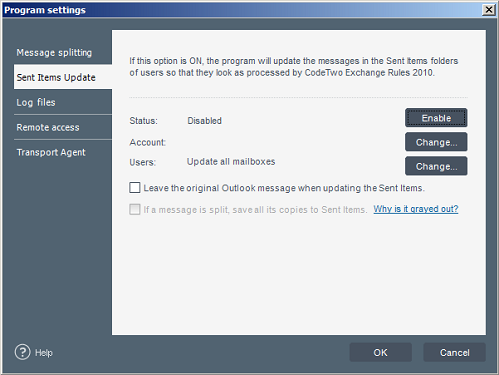 Fig.3. Sent Items Update configuration.
Log files
contain diagnostic information that can be used if the program deviates from its intended behavior
Fig.4.
.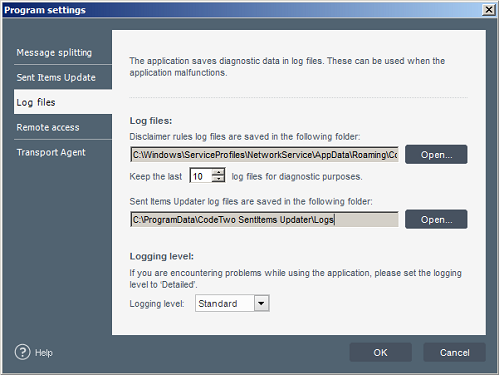 Fig.4. Log files window.
Remote access
allows you to configure the program without physical access to Exchange Server. For example, the server installation can be controlled from another non-Exchange server or even a desktop computer. The Administartor can set specific access rights for individual users and groups for enhanced control of the modifications that can be introduced by non-admin users (
Fig.5.
).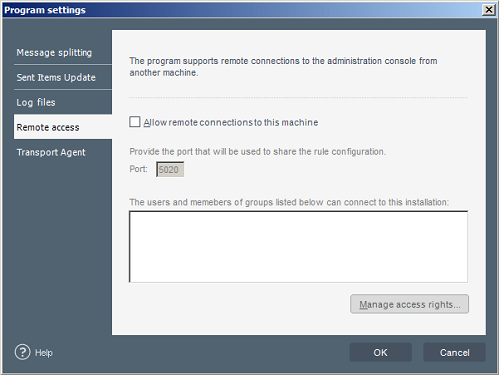 Fig.5. Remote access window.

In order to remotely connect your desktop to a server it is necessary to download and install the
desktop version
of the program on your machine. To do that, click the following
download link.
Transport Agent
feature is used to install or uninstall the Transport Agent (
Fig.6.
).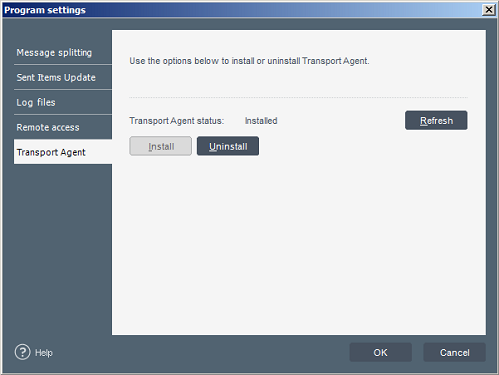 Fig.6. Transport Agent window.