CodeTwo Signatures Add-in for Outlook - individual installation
If your organization uses CodeTwo Email Signatures for Office 365 and has configured the software to add email signatures to your Outlook, you only need to install an Outlook add-in to start and the software will do the rest for you. Follow the instructions below to get automatic signatures in Outlook on your Windows-based computer.
Before you install
The add-in will not add any signatures to Outlook unless an administrator in your organization has set them up first.
Hints for administrators:
For the add-in to work, the CodeTwo software needs to work in client-side or combo mode (learn more about signature modes). You also need to prepare an email signature template and assign users who should get it. To do so, create and set up a client-side signature rule(s) in the Manage Signatures App.
Download CodeTwo Signatures Add-in for Outlook by using this link.
Launch the downloaded setup file and click Install (Fig. 1.).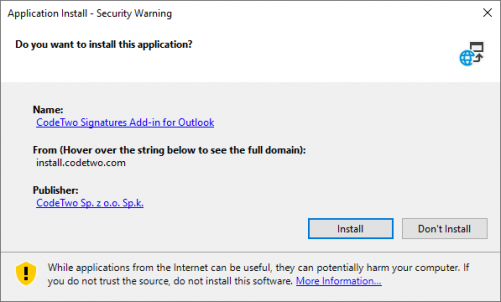 Fig. 1. Installation of the Signatures Add-in for Outlook.
Click OK after the installation is finished.
Launch your Outlook to see the new add-in. If Outlook was already open during the installation, you need to restart it to apply the changes.
The add-in is now available in your Outlook and opens in the right pane. (Fig. 2.). You can change its width to resize it. Use a dedicated button on the ribbon to hide/show the add-in pane.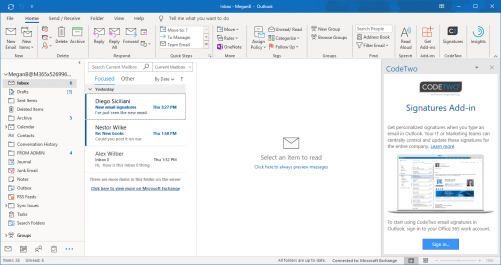 Fig. 2. This is how CodeTwo signatures add-in appears in Outlook right after installation.
In the add-in pane, click Sign in. A Microsoft sign-in screen appears. Sign in using your Office 365 work account credentials and accept the permissions to synchronize the add-in with your Outlook and get automatic signatures.
When you're signed in, the add-in pane shows signatures that are available for you. Depending on your organization's settings, these signatures can be added automatically (when you compose a new message or reply to/forward a message) or you can add them yourself in compose mode in Outlook, just as you normally add Outlook signatures: go to the Message tab, click Signature on the ribbon and choose any signature that is available to you. Learn more about the add-in
See next
CodeTwo Signatures Add-in for Outlook - learn how to use the add-in in your Outlook