Previewing email signatures in Outlook / Outlook for Mac
After CodeTwo Email Signatures for Office 365 Add-in has been deployed to your Microsoft 365 or Office 365 (see global or individual installation instructions), it will be automatically available in your Outlook, no matter if you have a PC or Mac (learn more about the supported platforms). Here, we will show you how to use the add-in in Windows, but it all looks similar in Outlook for Mac.
When you start composing a new email or reply to / forward a message, you can see the server signature preview (

) button on the ribbon (see Fig. 1.).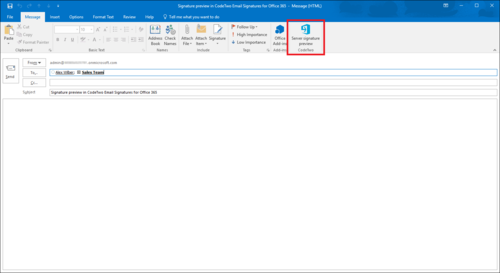 Fig. 1. The server signature preview button is available in compose mode in Outlook.
Click this button, and the preview pane will appear next to the reading pane (Fig. 2.). The signature preview is based on the rules that apply to your Microsoft 365 (learn more). The contents of the preview pane are refreshed every time you make changes to your email (e.g. add recipients or type any text) so that the preview is always up to date.
Important
You need to add at least one recipient to your email to be able to display the signature preview.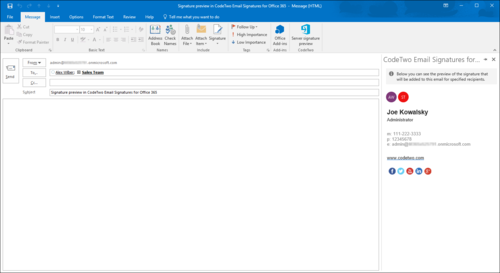 Fig. 2. The server preview of your signature is displayed next to the reading pane.
Even if you use different signatures for different recipients or if you have different signatures for new and subsequent emails, the add-in will always display the right signature(s). If you write an email to several recipients to whom different rules apply (e.g. a different rule applies to internal and external recipients), the preview pane will show all the signature variants, one below the other (see Fig. 3.). Find out more about signature rules and conditions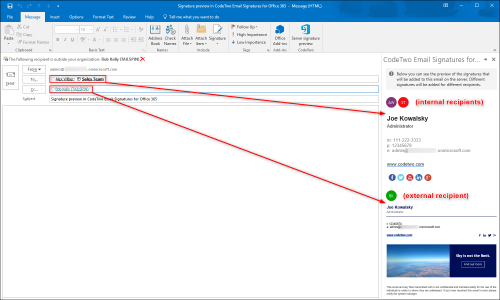 Fig. 3. A server preview displaying two signatures (1 for internal and 1 for external recipients).
Tip
If you want to see the signature preview every time you start composing an email, pin the preview pane to your Outlook, so that it looks as in Fig. 4. This option might not be available in all Outlook versions. Learn more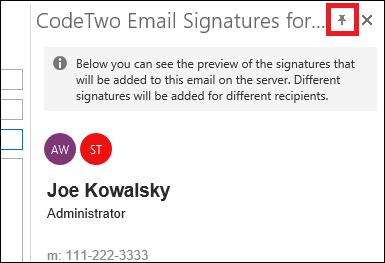 Fig. 4. Use the highlighted button to pin/unpin the signature preview pane in Outlook.
If you use Outlook for Mac (Fig. 5.), you can preview email signatures in the same way as described above.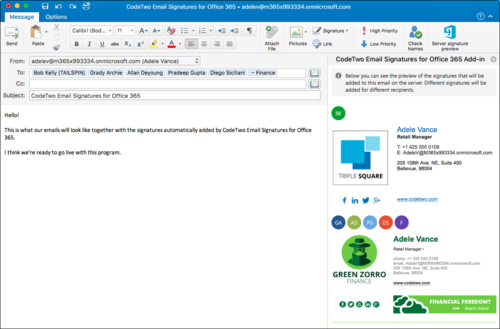 Fig. 5. Previewing signatures in Outlook for Mac. Here, the preview pane shows two signatures: an external signature (recipient: Bob K.) and an internal signature (multiple recipients).
Keep in mind that the preview add-in shows only the contents of the signature section of your signature template. If you define the program to add left/right banners or a top section (header) to messages, these sections will not be previewed. Learn more managing email sections in the signature template editor
Using the preview add-in with shared mailboxes
The signature preview add-in shows users' personal signatures only. If you select a shared mailbox in the From field while composing an email, the add-in will show a signature configured for the user selected in the Send Using field (Fig. 6.), even if this user is assigned the Send As permission to this mailbox.


Fig. 6. Selecting a user who will send an email from a shared mailbox account.
CodeTwo Email Signatures for Office 365 will still add the correct server-side signature to emails send from this shared mailbox, according to your rules. The functionality to preview signatures set for shared mailboxes will be added in future updates to the add-in.
Learn how to add signatures to emails sent from shared mailboxes
Troubleshooting
In case of any issues with the CodeTwo Email Signatures for Office 365 Add-in, consult this KB article.