Integration with Customer Thermometer
This section describes how to integrate CodeTwo Email Signatures for Office 365 with Customer Thermometer. Customer Thermometer is an easy-to-use customer satisfaction survey tool which can add 1-click surveys (referred to as Thermometers) to your email signatures. Customer responses can be analyzed with advanced reporting tools offered by the Customer Thermometer service.
Integration of the Customer Thermometer service with CodeTwo Email Signatures for Office 365 allows you to:
embed customer satisfaction surveys into personalized email signatures,
get a high response rate thanks to non-invasive 1-click surveys,
analyze customer responses and react in real time.
Creating a new Thermometer
First, you need to configure your Customer Thermometer service. You can find detailed instructions on how to do this in this user guide article.
When you are done modifying the required options, click Generate embed code. The HTML Preview window will open (Fig. 1.).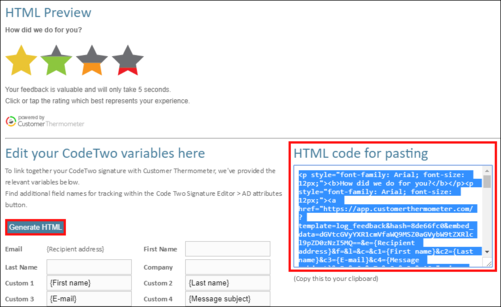 Fig. 1. An HTML preview of a new Customer Thermometer.
This window shows what the generated Thermometer will look like (note that you can use CodeTwo Email Signatures for Office 365 signature editor to modify its final look). In the Edit your CodeTwo variables here section, you can insert your AD placeholders for tracking purposes. This way, you can automatically personalize customer satisfaction links for different users in your organization and receive more detailed reports in the Customer Thermometer service.
For more information on reporting in Customer Thermometer, visit User guide - reporting.
Click Generate HTML and copy the code from the HTML code for pasting section. Now, you can close the HTML Preview window and save changes to your new Thermometer.
Inserting Customer Thermometer into CodeTwo Email Signatures for Office 365
The following solution requires an active Office 365 subscription with CodeTwo Email Signatures for Office 365 configured.
The example below shows how to set up an email signature with Customer Thermometer. The signature will be added to emails sent by Sales Team to external addresses.
Adding a generated Customer Thermometer to your email signature
Info
Note that changing graphics to embedded ones is not required. However, embedded images give you several benefits, e.g. they are immediately visible in a message, without the need to download them (learn more about the differences between online and embedded graphics in this article).