Signature template editor and library
CodeTwo Email Signatures for Office 365 comes with a dedicated tool, the Signature template editor, to help you design signatures and, in case of server-side signatures, other email sections such as headers or side banners. You can create your signature template from scratch or use one of the built-in templates – we've included dozens of templates to suit everyone's needs. See the video below for a quick overview.
You can access the signature template editor from the Manage Signatures App. In the app, select a signature rule and go to the Design tab. Click Edit signature (Fig. 1.) to open the editor and create a signature template for your rule (or modify the existing template, if you already have one).


Fig. 1. The editor can be launched via the Edit signature button.
If you have not created any signature yet, the editor opens with the signature template library (Fig. 2.), which includes a variety of predefined templates organized into several categories. Choose a signature template and you will be able to quickly customize it before it's loaded into the editor. If you want to create a template on your own, select the blank layout or one of the templates from the layout only category. You can access the template library any time later, by clicking the Open button on the editor's ribbon.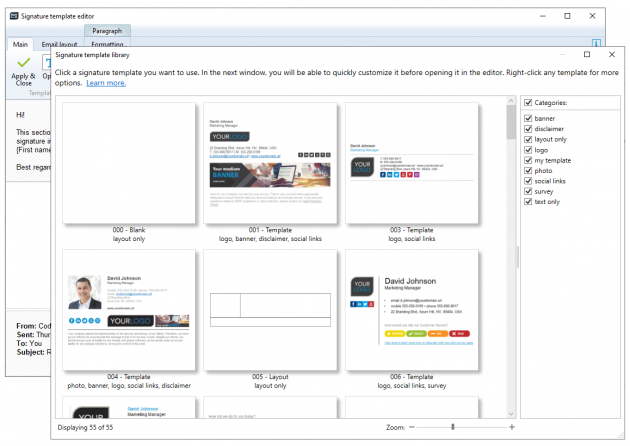 Fig. 2. The signature template library.
After you select your template, it opens in the signature template editor (Fig. 3.). The editor features a simple WYSIWYG interface – use the commands on the ribbon to design your signature template. When you're done, click Apply & Close to apply the changes to your signature rule. If you want to learn about the available features or you need a quick guide, check out CodeTwo Signature template editor - User's manual.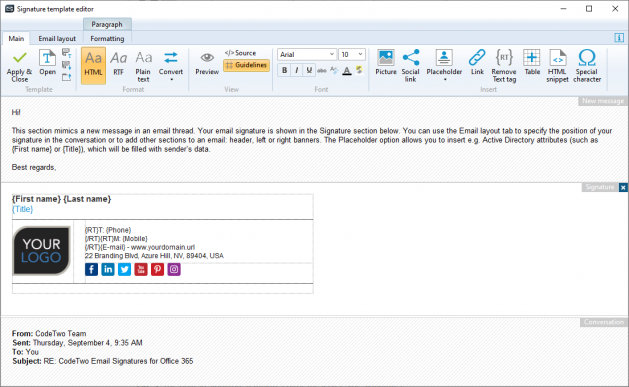 Fig. 3. The built-in signature template editor for server-side signatures.
Template library management & synchronization
Use the commands in the Template group on the editor's ribbon to access the library and manage templates. For example, you can save your signature to the template library for later use. Or you can save your server-side signature template and use it when configuring a client-side signature rule. The template library content is stored per-tenant in Microsoft Azure. This means that you can access the custom templates you created for your Office 365 tenant from any machine as long as you install the Manage Signatures App and log in as an authorized user belonging to this tenant.
If you are using CodeTwo Exchange Rules or CodeTwo Exchange Rules Pro and you would like to transfer your custom signature templates to the signature template library in CodeTwo Email Signatures for Office 365, use our tool – CodeTwo Exchange Rules Converter. Learn more
See also
Managing signatures in email conversations – find out how to control the appearance of your signatures in email threads
User AD attributes & Tokens – learn how to configure custom AD attributes to use them in the signature template editor
CodeTwo Signature Template Editor user's manual – learn more about creating personalized email signatures, legal notes, disclaimers, marketing banners, headers, and more