Signature editor
CodeTwo Email Signatures for Office 365 is equipped with a signature editor in which:
You can type in the signature text and customize its format just like in any other WYSIWYG editor.
Note the top menu options. HTML / RTF / PLAIN TEXT buttons allow you to switch between signature format versions. It is important to configure all of them as the software adds signatures of the same format as the message to which the signature is added. That means that if you send a Plain Text email, a Plain Text signature will be added, but note that you must configure the Plain Text version of the signature before. You can use the Convert button to let the program convert one format to another.
You can insert images and tables to HTML signatures. Images can be either uploaded from your hard drive or pulled from a web resource.
Signatures can be freely swapped with disclaimers i.e. you can decide whether you want to add a signature right under the last response or at the very end of the conversation (usually used for legal disclaimers), see Fig. 1., click on the gear icon on the right-hand side of the editor to pull this menu.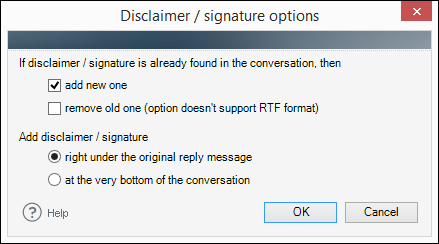 Fig. 1. Signature/disclaimer options.
One of the most important features of CodeTwo Email Signatures for Office 365 and the editor are placeholders. They are based on your Active Directory attributes. Why type in every detail manually when you can pull them from AD? Just click on the Placeholder button in the top menu bar and select a desired AD attribute (Fig. 2.). Placeholders inserted in the signatures are populated by the software automatically when the signature is stamped to an email.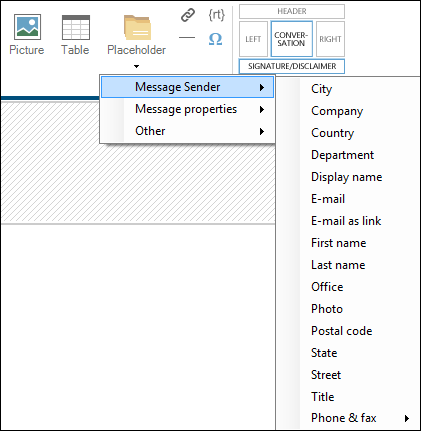 Fig. 2. Placeholders list.
Info
Placeholders may not work right after you configure your signature rules for the first time or after resetting AD Azure cache. This is because placeholders values are populated by cached data, not by data taken directly from your Office 365.
A cache mechanism has been added to speed up message processing and prevent software from querying Azure AD too often. The software automatically refreshes its cache every 60 minutes. You can manually reset AD Azure cache in Program Settings, Azure AD cache tab.
Important
If you use custom attributes in your environment, the corresponding placeholders might not be displayed until you configure the program properly. For more information, click here.
Advanced users can edit a signature's HTML source by clicking the Source button in the top menu, this will bring up the HTML source code editor.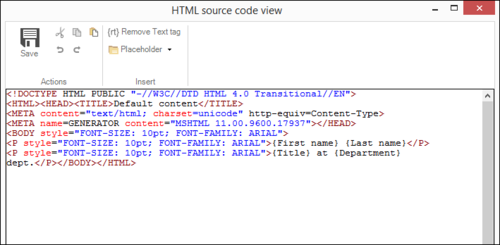 Fig. 3. HTML source code editor.
Info
This is just a brief description of the editor possibilities. If you are hungry for knowledge, you can take a peek at our user's manual for CodeTwo Exchange Rules PRO, editor and add graphics articles, as that software features a very similar editor. Keep in mind that CodeTwo Exchange Rules PRO works with Exchange Server on-premises therefore some options of the editor work differently.
See next
Custom attributes - a detailed information on how to configure custom AD attributes to use them in the editor.
Template library - learn how to use the signature templates provided with the program or create new templates.