Installing and launching the Manage Signatures App
If you finished all the previous configuration steps, it's time to start working with email signatures. To do that, you need to install the Manage Signatures App. Follow the guidelines below.
Open CodeTwo Admin Panel, go to the Dashboard, and click the Manage signatures (

) button displayed next to your tenant name on the Tenants card (Fig. 1.).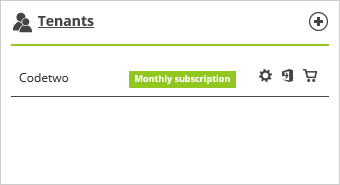 Fig. 1. The Tenants card.
This will install the Manage Signatures App - our application designed to help you configure signature rules.
Info
The application works out of the box in Internet Explorer 9 (or newer), therefore we recommend using IE. However, we also successfully tested recent versions of Google Chrome and Mozilla Firefox. Other browsers will probably work, too, but they might require you to install additional plugins or download executables each time you launch the app.
In Internet Explorer, clicking the Manage signatures (

) button on the product's website (global Office 365 users | Office 365 Germany users) will automatically launch the program or (if you have not installed the program yet) download and run the application installer (Fig. 2.).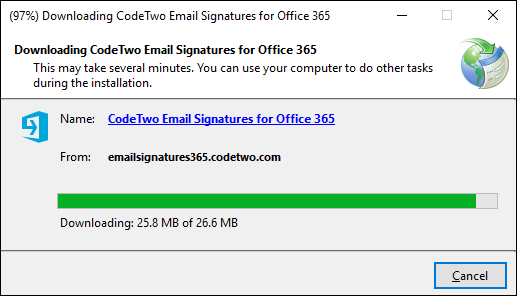 Fig. 2. Application download in progress.
Other browsers will download the Manage Signatures App installer every time.
The application will be installed locally. After installation, you can launch the Manage Signatures App in several ways:
from a shortcut in the Start menu,
via the Manage signatures button on the program's website (global version | Office 365 Germany version),
from CodeTwo Admin Panel, by clicking the Manage signatures () button next to the name of your tenant (see Fig. 1.).
The Manage Signatures App is equipped with a self-updating mechanism (a feature of the ClickOnce technology). Each time you launch the program, it checks for newer versions and prompts you to install the most recent update, if available.
Info
If you stumble upon a logon error mentioning that proxy authentication is required when starting the Manage Signatures App, check this Knowledge Base article.
The application shows a welcome screen at launch (Fig. 3.). You need to log in to proceed.
Info
Credentials of a global admin account of your Office 365 tenant will be required. If your tenant has multiple global admins, you can use any global admin account to log in (it does not have to be the account under which your tenant is registered in the Admin Panel).
Fig. 3. CodeTwo Email Signatures for Office 365 welcome screen.
Click Log in and an Office 365 sign-in page will open (Fig. 4.). Sign in to your tenant by using global admin credentials.
Important
Your credentials are completely safe as they are passed directly and only to Microsoft servers, which is ensured by the Azure's OAuth 2.0 authorization. CodeTwo does not store, copy or have access to your global admin credentials. If you select the option to keep you logged in (Fig. 3.), the required tokens will be encrypted and stored on your local machine.

Fig. 4. Office 365 sign-in page.
Once you read and accept the required permissions, the application launches and you can start managing your signature rules.
See next
Installation of the signature preview add-in - find out how to install our dedicated Outlook add-in to preview signatures while you compose messages.
Sent Items Update - configure the program to update your Sent Items Folder.
Quick guide - create a signature rule step by step.
Signature management - learn more about the signature adding algorithm and about various components of the program.