Central deployment of the signature preview add-in
CodeTwo Email Signatures for Office 365 Add-in can be easily deployed to all users in an Office 365 organization via the Exchange admin center. In this article you will find step-by-step guidelines for Office 365 administrators.
First, log in to your Exchange admin center. On the dashboard, click add-ins as shown in Fig. 1. You can also access add-in settings from the organization tab on the left menu.

Fig. 1. Accessing add-in settings in EAC.
Click the plus (+) button and select Add from URL (Fig. 2.).

Fig. 2. Selecting the location of the add-in.
In the pop-up window that appears, enter the following address:
https://emailsignatures365-addin.codetwo.com/InstallApp
and click Install.
When the installation is completed, CodeTwo Email Signatures for Office 365 Add-in will be shown on the add-ins list (Fig. 3.). Note that by default, the new add-in is disabled.

Fig. 3. Initial configuration of the CodeTwo Email Signatures for Office 365 Add-in.
To enable the add-in, you need to double-click it or use the edit (pencil icon) button (Fig. 4.) and choose an option that best matches your preferences.
Important
If you enable the add-in in EAC, it might take a while (even 24 hours) for the add-in to be deployed to users in your Office 365 tenant.

Fig. 4. Add-in availability options.
Once the add-in is deployed to Office 365 users, they will be able to display the add-in pane with a signature preview while composing emails in Microsoft Outlook or OWA (Fig. 5.).
Learn how to preview email signatures in Outlook/OWA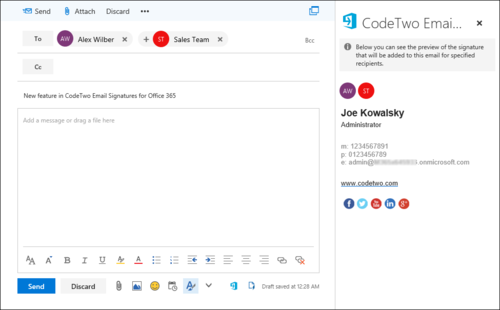 Fig. 5. The signature preview pane is displayed next to the reading pane (OWA).