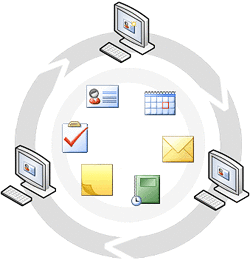 Outlook calendar synchronization can be achieved in many ways. Mostly it is done using Microsoft Exchange Server but this is a costly solution designed for large companies with multiple Outlook users. Thanks to CodeTwo Public Folders, you can synchronize Outlook calendars quickly and easily by installing this smart Outlook add-in on each of your machines.

After installing the program, an additional tree of folders appears in each Outlook navigation pane - it's basically another PST file. To synchronize Outlook calendar, you simply need to create it in this additional tree of folders and it will automatically appear on every other computer in the network in the same place in Microsoft Outlook.

If you want to synchronize your personal Outlook calendar, you can either copy it to Public Folders or share it directly from personal folders by right clicking on it and selecting Share this folder... option. Learn more about synchronizing Outlook calendars.

Take a look at this short video tutorial showing how to synchronize Outlook calendars and download a fully function 30-day trial of CodeTwo Folders to test it in your environment.

Please note! CodeTwo Public Folders is not only Outlook calendar sharing plugin. Owing to it, you can synchronize all Outlook items with other users. Furthermore, the program is fully integrated with Outlook so your users simply work on their mail clients and the entire synchronization process takes place automatically and in real time.