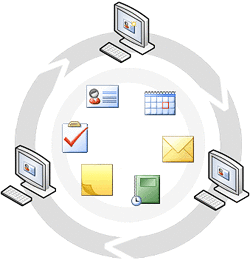 CodeTwo Public Folders enables you to synchronize Outlook folders in real time. By giving you a chance to synchronize your Outlook with others, CodeTwo Public Folders enhances teamwork in your team. Imagine how great it would be if you and your co-workers were able to synchronize Outlook folders, exchange contacts, share calendars and mail between your PCs - all in the background, automatically while you are working! It saves a lot of time and simply increases your company's productivity.

CodeTwo Public Folders works like Exchange Server as far as Outlook folders synchronization is concerned but requires almost no administration and configuration. Once you install it in your environment, the program starts to synchronize Outlook folders right away. By using it, you gain a possibility to create Public Folders in the Outlook tree exactly the same way as in Exchange Server. Users are also able to sync private folders with others by giving specified access rights to the folders they wish to share.
Among other things, CodeTwo Public Folders lets you:
synchronize Outlook contacts
synchronize Outlook calendars
synchronize Outlook mail
synchronize and delegate Outlook tasks
share documents with others in Outlook
One of the greatest advantages of using CodeTwo Public Folders is that your synchronized data remains always safe. Since the synchronization occurs within a local network, there is no risk that information important for your business will be hacked and revealed to your competition. This advantage makes the program a reasonable alternative to free tools that are also able to synchronize Outlook folders but not always provide you with a proper security level.

CodeTwo Public Folders trial version remains fully functional for 30 days. Try it now!