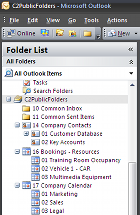 If you are looking for simple and reliable software to share Outlook folders between multiple users, CodeTwo Public Folders is up to the task. The program lets you share Outlook data between you and your team-mates in real-time without a need to deploy complicated and expensive server dedicated software.

Why is the possibility of sharing Outlook folders so helpful? Imagine how fast your team could work if you and your co-workers were able to share Outlook contacts, mail, calendar and tasks in the background without even thinking of the syncing process. Using CodeTwo Public Folders you will be able to deploy completely new groupwork scenarios that enhance productivity of the entire team.

There are several examples of how CodeTwo Public Folders can be used in your office. One of the greatest possibilities you get after installing the program is delegating tasks remotely through Microsoft Outlook. Since CodeTwo Public Folders enables you to synchronize all Outlook folders, you gain also the possibility to share Outlook tasks. In practice it means you can manage your projects directly from your PC equipped with Microsoft Outlook. Your employees can inform you about the progress and report completed tasks in exactly the same way - just by typing it in the task window.
Apart from Outlook tasks, CodeTwo Public Folders enables to:
share Outlook contacts
share Outlook calendar
share Outlook mail
share documents in Outlook
share Outlook pst file
share Outlook folders
See other examples of applying CodeTwo Public Folders in business.

If you would like to enhance teamwork in your organization or simply share Outlook folders between two computers you use at home and in the office, download the trial of CodeTwo Public folders and test it for free for 30 days. See how the simple possibility of sharing Outlook pst file can influence your everyday work. With CodeTwo Public Folders you will get more done in less time.

Download a free trial version and test it for 30 days in your environment. If you don't feel like buying the program after that, you can extend the trial period to additional 30 days.