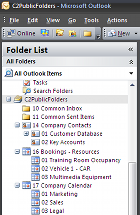 If you over wondered how to share Microsoft Outlook with others and enhance team-work in your company or home office, you're in a right place. CodeTwo Public Folders will let you share Outlook calendars, contacts, tasks, email and documents with others from your company in real time.

This simple Microsoft Outlook add-on does not require any administration and configuration. It also does not require any additional server software. Lots of our users call it "an inexpensive Exchange Server" alternative.
The program enables you to:
Share Outlook 2010,
Share Outlook 2007,
Share Outlook 2003 and older,
Share all data between different Outlook versions.
You can work in a mixed MS Outlook environment as CodeTwo Public Folders is compatible with all versions of the program. The entire Outlook synchronization process is automatic and totally transparent to users. What is more, the program integrates with Outlook so your users feel like using a program they've known for years.

Sharing Outlook is really simple and quick - after a few weeks of using the program in your company or home business, you will discover that this is what Outlook should do natively. What is more, the idea that anything you do in Outlook can be shared with others immediately and automatically will make your everyday work faster and nicer, let alone the positive influence on the entire management process you will get.

Download a free trial version and test it for 30 days in your environment.