Sync to mobile devices
With CodeTwo Public Folders you can now work on your shared Outlook calendars, tasks and contacts from literally every place in the world, even if you don't have your PC with you. Try it now! The dedicated Android and iOS apps are already available in Google Play Store and Apple App Store.
CodeTwo Public Folders mobile apps give you all the features necessary to stay fully operational outside your office. Thanks to them you can view, edit and create the shared items directly from the mobile device. All changes will be updated on other devices from your network in real time.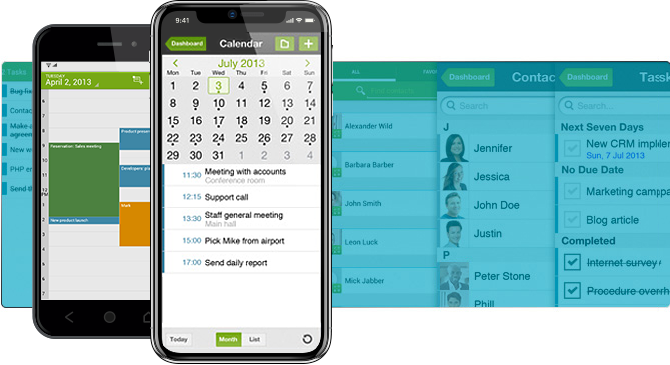 Although the mobile apps give you the same mobility, as Cloud-based solutions, they are much safer than the Cloud. The mobile phone or tablet is connected with your CodeTwo Public Folders network exactly in the same way as the PCs equipped with Microsoft Outlook plugins. Your tasks, contacts and calendars are never published in any place in the web or stored outside your devices. The data exchange is coordinated by the Syncing Master you install in your network.
With CodeTwo Public Folders mobile apps you can:
Use CodeTwo Public Folders on Android, iPhone or iPad
Access public Outlook items from a mobile phone or tablet
Create, view and edit public Outlook folders from any place on the world
Securely synchronize your public contacts, tasks and calendars between Microsoft Outlook and mobile phones
Go to the links below and test the CodeTwo Public Folders mobile apps for free! You don't even have to setup your own Syncing Master to be able to try them. Our Demo Server is at your disposal.
Note that the Demo Syncing Master is publicly accessible and can be used for testing purposes only. Be aware that we clear the Demo Syncing Master's database every Friday.




or scan a code
with your phone
or scan a code
with your phone