Share Windows files securely
CodeTwo Public Folders is not only an Outlook sharing application. It is equipped with the File Sharing App, which supports secure file transfers between multiple computers, both in your local network or across the Internet.
Use it to share:
documents,
photos
music,
videos
whatever else you want.
There is no size limit (other than your hard drive) and you can synchronize up to 100 computers.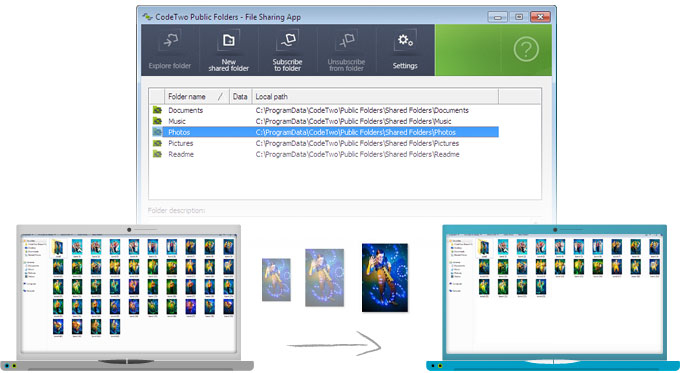 The File Sharing App works similarly to the popular file sync and backup cloud-based solutions but it is not a cloud drive as it keeps your files only locally on your machines. This means you can sync up all types of files, including all your sensitive data, without having to worry about security issues, since your data is not stored anywhere outside your computers, and no one other than your team can access it and read it.
The program allows you to create shared Windows folders that other users can subscribe to. Once users subscribe to your folder, it is synchronized to their computers letting them access, view and edit all the files. Naturally, any changes they make in the files or the folder structure are immediately synced back to all computers. You can also grant access rights to your shared folders and let only selected users see or edit them.
Keep in mind that the File Sharing App works even if you don't have Outlook on board. What is more, you can start sharing your files right after the installation since the configuration process is a breeze. You don't have to tinker with any firewall settings or open any ports in your router. Just install the program and let it walk you through a very simple setup wizard. Click here to learn about safe Outlook folders and Windows files synchronization.