Share Outlook Tasks
By offering the functionality of sharing tasks, CodeTwo Public Folders can transform your Microsoft Outlook into a powerful project management and online collaboration tool. Thanks to the real-time synchronization of Outlook tasks you can finally keep track of other people's work, collaborate online and manage projects directly in Outlook. What's more, you can get all that without investing large sums of money in servers.
The following examples show how CodeTwo Public Folders can improve work efficiency within your team.
Task assignment in Outlook
When planning to run a complex business project, it's a good idea to set up a shared public task folder for your tasks. Thanks CodeTwo Public Folders a project coordinator is able to create tasks for team members and keep track of them directly in Outlook. When placed in the C2PublicFolders folder tree, task items become easily accessible for the entire team. Every change by any team member is synchronized with all devices from your network in real-time. Moreover, access to shared tasks can be limited by the administrator by editing permissions for selected folders in the CodeTwo Public Folders administration panel. This allows the team leader to organize the team's workflow in a better way and protect selected information from being viewed by undesired individuals.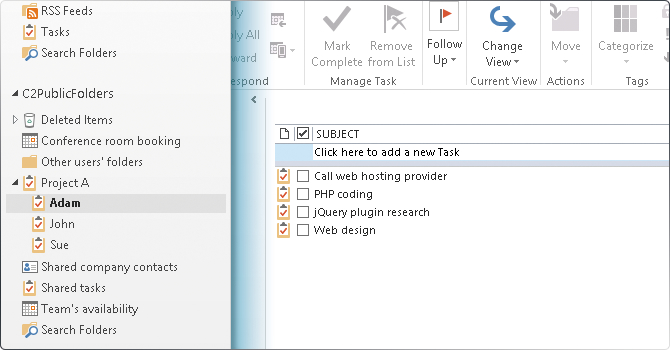 Delegating tasks in Outlook
Because CodeTwo Public Folders allows users to share any Outlook folder with another person, the manager can gain access to users' personal tasks directly from his or her computer. This feature makes it possible for the supervisor to keep track of other people's work, as well as make changes to shared Outlook tasks (or create new ones) remotely. By using CodeTwo Public Folders your mail client can turn into a powerful project management platform, in which every project is well-organized and can be easily managed by the team leader.