Share Outlook emails
Collaborating on emails can be a nightmare - you have to share passwords, forward messages, take extra precautions to avoid multiple replies to one email, etc... But not when you have CodeTwo Public Folders.
Thanks to the program you can set up a shared Inbox in all Outlooks in the office, automatically making emails received by individual employees or general mailboxes (such as sales@... or info@...) publicly available. At the same time, the personal folder sharing option enables a user to keep an eye on and even manage a co-worker's Inbox e.g. when they are on vacation. All this, without sacrificing security or manually exchanging messages.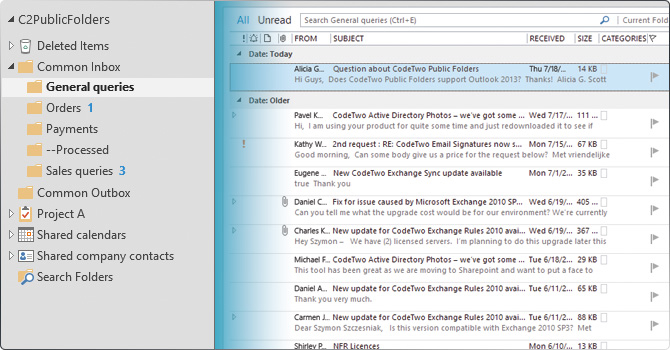 Common Inboxes, Sent Items folders and sharing personal emails
Companies often use Outlook to receive and process business correspondence like orders, product queries and assistance requests. In such cases an email that is received or sent via a general sales or customer support account needs to be accessible for multiple users. CodeTwo Public Folders solves this conundrum by letting you store all business correspondence in a common Inbox, synchronized in real time between all Outlooks in your network. This way, orders and other urgent messages can be read by multiple staff members and then processed by any employee, depending on his or her availability at a given moment.
Here is how it works in practice: Emails are automatically routed to one or more common Inboxes using Outlook rules based on senders' or recipients' addresses or other attributes. When someone starts to process a message they categorize it as pending or forward it to a different folder in order to notify other co-workers that it is already being taken care of. After the message is processed, if there was a reply, Outlook rules can again be used to move it to a common Sent Items folder. It is no longer a problem to track important emails, check their status and see who has been working on them. A simple solution, which helps efficiently distribute customer service between employees and speed up work in your company.
Apart from the above, CodeTwo Public Folders also lets you share emails directly, by publishing e.g. your personal Inbox or Sent Items folder in the network. A couple of clicks and your personal email folder, together with all its contents, becomes a shared email folder, ready to be viewed or edited by any user or users you selected.