Share Outlook calendars
Schedule meetings, make appointments and check the availability of resources at a glance. CodeTwo Public Folders allows you to create a public company's calendar that can be easily edited by employees in real time. This means that every authorized user has an overall view of the availability of company's resources and staff, and can introduce changes when necessary, e.g.: book meeting rooms, arrange conferences or notify about absences.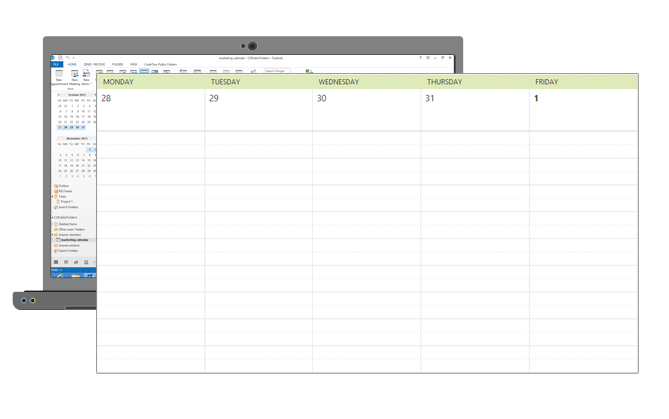 What is more, CodeTwo Public Folders lets you share Outlook calendars with other users. This feature ensures full control over synchronized content and thus can be adapted to the needs of any company.
The installation of the CodeTwo software is simple and doesn't require any expert knowledge. Furthermore, CodeTwo Public Folders doesn't make any changes in users' existing Outlook settings, so no special training is needed.
Below you will find some useful examples of how the CodeTwo Public Folders calendar sharing feature can be used in the office life.
Managing your supervisor's calendar
Good news for assistants responsible for managing their boss's daily schedule. CodeTwo Public Folders lets a boss grant his/her assistant reviewer, contributor or editor permissions to one or more personal calendars. This is guaranteed to save time otherwise wasted on email exchanges and trips between offices. The assistant will now be able to remotely perform all approved duties, from monitoring appointments, to creating new ones.
Thanks to this feature, new entries and changes in the calendar on the boss's PC are immediately visible on the assistants PC (and vice versa, if editing permissions are granted). The exception to this rule are items marked as Private. They remain invisible to the other user, even if he/she has all access rights to the remote Outlook calendar.
Booking of public resources
Trying to find out if a meeting room is occupied at a given hour can be a chore... Unless you have CodeTwo Public Folders.
Our software ensures that information about an office resource or room being reserved for a specified period of time is synchronized between all users in the company. How is this possible? Simple: the application enables you to set up a public calendar (or multiple calendars), which will from now on act as the office resource booking system. Next time an employee needs a company car, conference space or a projector, they will just create an item with their name, hours and purpose of the reservation in the appropriate calendar. That's all it takes! Everyone else will be automatically and instantly able to see the booking in their Outlooks or mobile phones.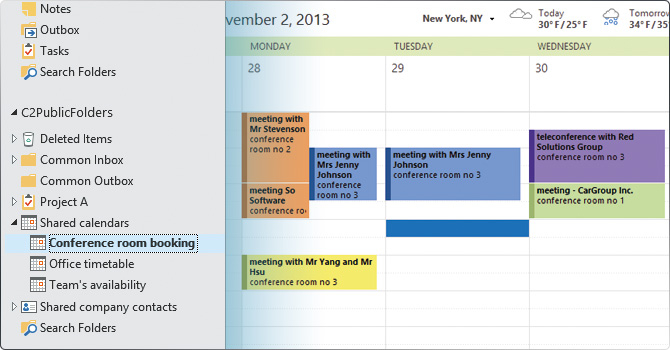 Access rights to public calendars can be set by the administrator in such a way, that users are free to edit and delete their own items, but unable to alter the details of items belonging to others. In effect, your staff can make detailed plans how to utilize public resources most efficiently. And because Outlook is already so popular in offices worldwide, there is no need to purchase and get to know any additional applications.
Group timetable
With CodeTwo Public Folders, organizing meetings, scheduling appointments with co-workers and staying on top of important events in the office is easier than ever. Use the application to create an aggregate office calendar open to all authorized users, and let them sync their appointments, effectively creating an integrated group timetable. Everyone out for themselves? Not anymore!
Employee out of office hours registry
The public calendar feature is also a life saver when it comes to up to date information about co-workers' absences. Don't waste hours trying to find out whether someone is in the office or out on a sales call, business appointment, sick leave or vacation. Thanks to CodeTwo Public Folders everything you need to know about the availability of all employees in your company at any given time is right there in your Outlook or mobile device.