Share Outlook with your team
CodeTwo Public Folders wraps storage and synchronization around Microsoft Outlook, and enables real-time sharing of all types of folders in Outlook between multiple computers. The synchronization can take place in your local network or across the Internet, which means you can share Outlook with your teammates no matter where you are.
Use the program to share:
calendars and meetings
contacts, address books
email and posts
tasks
journals
notes
folder views and non-standard forms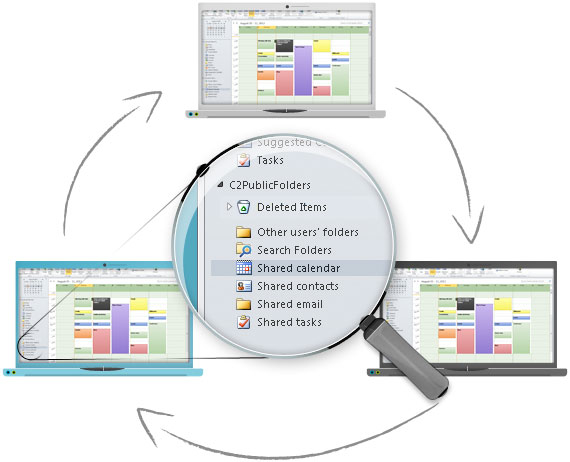 No matter if your PCs are connected to the network wirelessly or via an Ethernet cable, the synchronization process is always automatic and transparent to users. The program also supports mixed Outlook environment, so you can e.g. sync Outlook 2010 with Outlook 2007 or other versions.
The program is very easy to install and use, requiring no maintenance once configured. Naturally, you can always access the Administration panel to take a deeper dive into program's settings, manage access rights to shared folders, etc.
And it's all safe. We know how lots of people are averse to keeping their data in the cloud – that's why we store your files on your PCs only. And when you sync over the Internet, we only transfer your data and have you covered with our encryption algorithms. Click here to learn about safe Outlook folders and Windows files synchronization.