Work online or offline
CodeTwo Public Folders enables you to work with shared data, e.g. with shared Outlook calendar, also when you are disconnected from the Internet. This feature is especially useful for those who frequently work in the field and have no mobile Internet. It also gives you 100% uptime with your shared data since you are independent of the Internet connection.
When you leave the network or if you are away and have no Internet connection, you still can work with shared data.
In this case, all changes you make in Outlook or Windows shared folders are saved locally and will synchronize with the other PCs once you re-establish connectivity with the company network. The data from your local machine will automatically, and without any action on your side, synchronize with the Syncing Master updating all items that have changed since you left the network.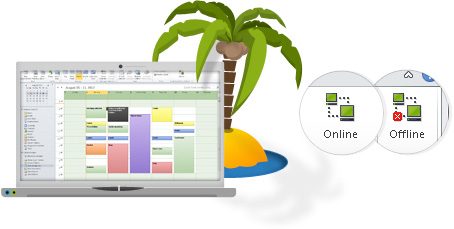 Frequently, some machines are powered off while other machines are on, and computers sync data. In this case, when the computers are powered off, they will not receive updates, but they will sync automatically once they are powered on and the connection to the Syncing Master of CodeTwo Public Folders is re-established.