Share Outlook emails, contacts, calendars and tasks!


---
Date Published: 16 Jan 2019
Latest Version: 5.7.4.0
Size: 119 MB
---
Supported platforms
Syncing Master and Outlook Add-in:
Windows Server 2016(1) / 2012 R2 / 2012 / 2008 R2 / 2008 / 2003 R2 / 2003
Windows 10(2) / 8.1 / 8 / 7 / Vista / XP SP3
Support for 32-bit and 64-bit versions
Outlook Add-in:
Microsoft Outlook 2016 / 2013 / 2010 / 2007 / 2003
Support for 32-bit and 64-bit versions
Mobile Apps:
Android 2.3 and later
iOS 5.x and later(3)
(1) If you can't find the program after the installation, consult this KB article.
(2) If the program doesn't work after upgrading to Windows 10 from Windows 7 or 8.1, you need to reinstall it.
(3) If you're using iOS 11, the Sync from iPhone and Sync to iPhone options are limited. Learn more.
---
---
Download
The product you are about to download (CodeTwo Public Folders) is a Microsoft Outlook folder synchronization and folder sharing utility for multiple instances of Microsoft Outlook 2016, 2013, 2010, 2007 and 2003.
Download a fully functional 30-day trial

or you can buy a full version here
Installation Guide
CodeTwo Public Folders consists of two components: The Syncing Master and Client Apps. The Client Apps include The Outlook Add-in, File Sharing App and mobile apps.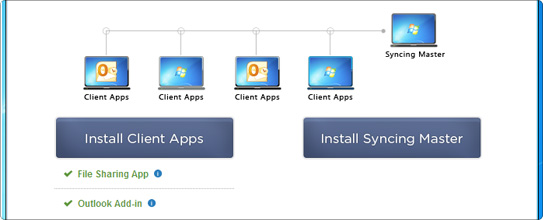 First, install the Syncing Master of the program on one of the computers in the network *. It does not require any configuration.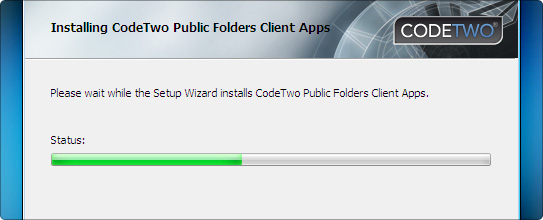 Next, install the Client Apps on the computers that will be used by employees to share Outlook and Windows data.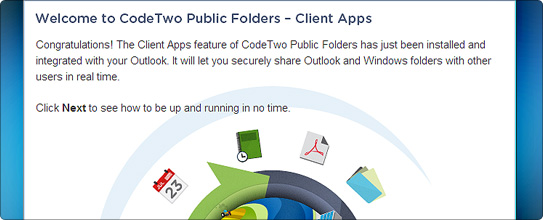 Both the Syncing Master and Client Apps installation finishes with the Quick Tour window which will give you an overview of the basic settings and configuration.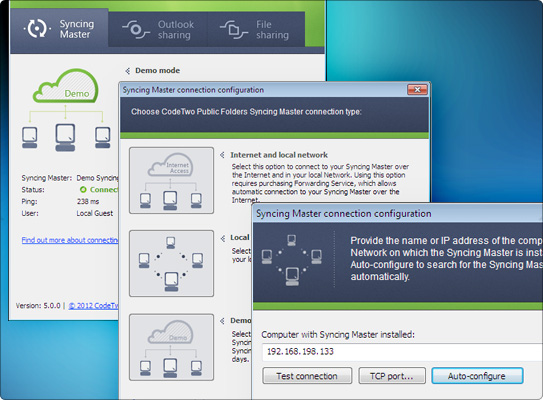 Immediately after the installation, you are connected to the Demo Syncing Master so that you can quickly get familiar with the program's features. Learn how to connect the Client Apps to your own Syncing Master...

Note that the Demo Syncing Master is publicly accessible and can be used for testing purposes only. Don't use it to share sensitive and confidential data as it will be visible to users from other organizations connected to the Demo Syncing Master. Processing or storing any personal data in the Demo Syncing Master is strictly prohibited! Be aware that we clear the Demo Syncing Master's database every Friday.
Download the mobile apps!
CodeTwo Public Folders has a dedicated set of mobile apps that will help you stay connected with your team even when you don't carry your PC with you. Download the apps from Google Play Store or Apple App Store and access your public tasks, contacts and calendars from a mobile phone or tablet!




or scan a code
with your phone
or scan a code
with your phone
You can use this program with:
CodeTwo CatMan - FREE TOOL
Want to share Outlook categories with others? Install CodeTwo CatMan and let your workmates work on unified Outlook category colors and names. The program is completely free and fully compatible with CodeTwo Public Folders. Learn more and download for free...
---
* To quickly test the program's functionality, you do not need to install the Syncing Master at all! You only need to install the Outlook Add-in on several computers, and share data by connecting to our Demo Syncing Master. More...
Trial version vs. Full version
The trial version is fully functional and its only limitation is that it cannot be used longer than 30 days.
Before or after this period expires you can purchase the license key to activate the trial version of the program to the full version. After you activate, you will be able to use the program without any limitations, and all settings as well as the data used in the trial period will be kept.
Upgrading
To upgrade the program to the newest version, run the installer program. The previous version will be detected and automatically upgraded. All data and settings will be kept. More about upgrading.