Administration panel
CodeTwo Public Folders can be implemented in every office environment within minutes. No professional IT knowledge and maintenance are required for it to work properly.
Even though there are no settings to tinker with to set up and work with the program, you can do lots of configuring if you want. The Administration panel of CodeTwo Public Folders, which is accessed from the PC equipped with the Syncing Master, enables you to:
set user access rights to Outlook and Windows shared folders
create backup copies, restore and migrate databases
manage database location and network settings
restore deleted items
enable Internet access to the Syncing Master
manage licensing
preview and send log files to our Customer Support
and much more!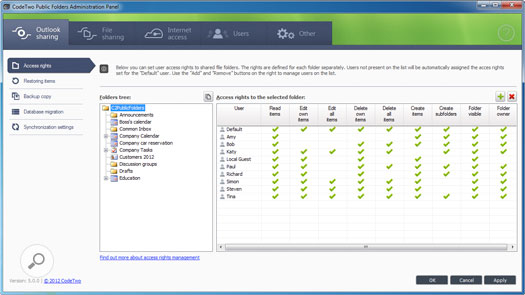 Accessing the Administration Panel is also password protected, so you are sure only authorized users are able to change settings, manage access rights, restore removed items and so on.