Access rights management
CodeTwo Public Folders not only enables you to share Windows files and Outlook calendar, contacts, tasks and email – it will also let you fully control who can access and edit this data.
The Administration Panel will allow you to create and manage password-protected user accounts. Your teammates will need those accounts to connect to the Syncing Master and synchronize data. What is more, the File sharing and Outlook sharing tabs will let you define specific access rights to shared folders in Outlook and Windows.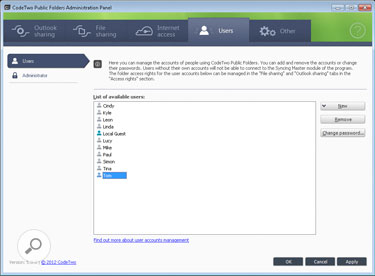 If you don't want to tweak any access rights and want to grant all your users the same privileges, just edit the Default user rights and it will apply to all users. If you, however, want to differentiate access options, you can easily do it by adding individual folder access rights to specific people. You can set the following access rights:
reading items
editing own items
edit all items
deleting own items
deleting all items
creating items
creating subfolders
displaying folders (folder visible)
ownership rights (folder owner)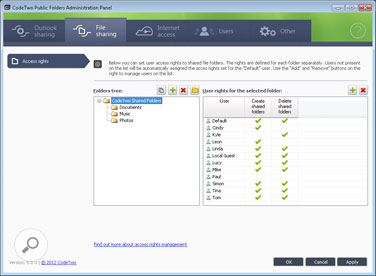 In Outlook, apart from sharing data in public folders, users can share personal folders with others. In this scenario, the user who shares the personal folder chooses the access rights to it. The rights to personal folders can also be changed by the user who can access the Administration Panel.
The management of access rights is indispensable and considerably expands the capability for teamwork management. It lets you choose folders that will be visible for selected users, and choose users who will be able to add, modify or delete items, or create new folders.