CodeTwo Outlook Sync
Sync Outlook folders between two PCs

CodeTwo Outlook Sync enables you to sync Outlook calendars, contacts, tasks, emails, documents and any other Microsoft Outlook items between two computers in your local network. The application is very easy to use and the entire installation and configuration process shouldn't take longer than 5 minutes.
Watch a short video on how to sync Outlook between two computers with CodeTwo Outlook Sync.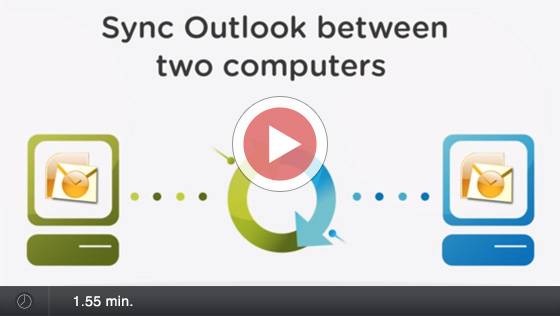 Please note! This is NOT a mobile app so please do not install it on your mobile device. Download the program and install it on your PC with Microsoft Outlook.
Key features
Sync Outlook folders between two computers

With CodeTwo Outlook Sync, you can sync Outlook data between two computers in a local network. Thanks to this free tool, your home desktop and business laptop can always stay up-to-date, so nothing ever escapes your notice. Every email, calendar entry, task or a document are always present on both your machines.

Sync Outlook calendar and contacts between you and your assistant

CodeTwo Outlook Sync allows your secretary to view and edit your shared Outlook calendars and contacts (as well as other Outlook folders). Can you imagine how greatly it facilitates your cooperation?

Assign Outlook tasks to your partner and keep track of them

The application lets you assign tasks to your co-worker or business partner and keep track of them in Outlook. Just select or create a tasks folder and sync it with your partner's machine.

Extremely easy to use and simple installation

The installation of the program is quick and easy. CodeTwo Outlook Sync is very straightforward so you don't waste time on learning new software.

Free to use

You can download the program absolutely free of charge. You will get all features without any time limits and hidden costs.