Adjust time to hide Outlook reminders from iCloud
Problem:
You want to adjust how long it should take to hide Outlook reminders coming from iCloud folders.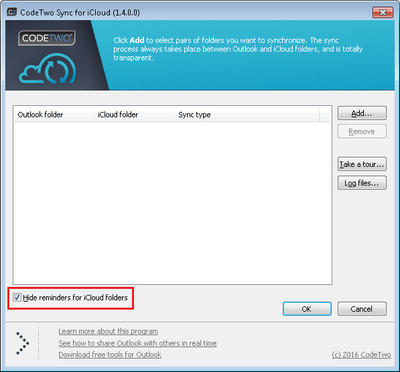 Fig. 1. Hide reminders option enabled.
Solution:
CodeTwo Sync for iCloud comes with a feature that can hide Outlook reminders for iCloud folders. To do so, the program is looking for a reminder window every 200 milliseconds. This value can be changed according to your preferences and system configuration.
If the reminder window is visible for too long, you can speed up the process by decreasing the value, e.g. to 100 milliseconds. On the other hand, if this value is too low and the software checks for the reminder window very frequently, this may cause the load of your CPU to be high. Therefore, to reduce the CPU utilization you can increase the value, e.g. to 600 milliseconds.
To modify the above-mentioned time value, please follow the steps below:
Run Registry Editor: click the Start menu button (or press the Windows key on your keyboard) and type

regedit

.
Navigate to the following path:


HKEY_CURRENT_USER\Software\CodeTwo\Sync for iCloud

Create a new DWORD value with a name

FinderThreadSleepTime

and a desired value.

The default value is 200 (decimal).

Restart your MS Outlook.