How to import PST files to Outlook despite errors
Problem:
You receive the following error when importing a PST file to Outlook:
Some items cannot be copied. They were either moved or deleted, or access was denied.
Solution:
There are number of reasons why PST files get corrupted or damaged, one of which being their size (bigger PST files tend to become corrupted more easily). The error above may also show up because of the applied security settings, hidden system files, or compatibility issues between different versions of Exchange servers (including Exchange Online) and Outlook, especially if you're using Outlook add-ins.
When importing Outlook items from a PST file, the program will abort the import process as soon as it stumbles upon an error. However, there's a workaround available that will allow you to import as many items to Outlook as possible. To use this workaround, follow the steps below.
In Outlook, go to File > Open & Export and click Import/Export.
In the wizard that opens, select Import from another program or file and click Next.
Next, select Outlook Data File (.pst), and again click Next.
In the next step, browse for your PST file and select the last option: Do not import duplicates (Fig. 1.).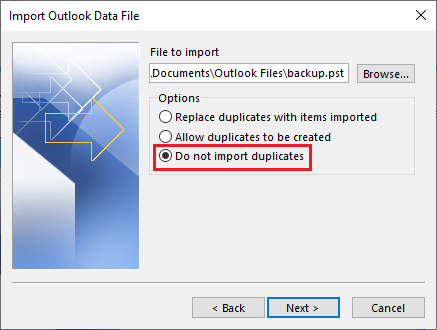 Fig. 1. The PST data import options in Outlook.
Continue with the wizard to complete the import process.
By doing so, the program will continue importing data from the PST file from where it left off (the item that caused the error will now be skipped). If you receive the same error again, this means there is another corrupted item in that PST file. If so, you need to repeat the import process – just remember to always select the Do not import duplicates option during each attempt. Keep repeating the entire process until the import progress box disappears without any errors.