Problems synchronizing a large number of items
Problem:
While copying or moving a large number of items to the source folder, some items are not synchronized properly.
Solution:
The problem may be evident in a below scenario:
A task is defined to synchronize two folders of Exchange.
After the synchronization of items in folders is finished, the user drops a large number of items to the source folder from another folder (e.g. a personal folder of the Exchange mailbox).
The application starts synchronizing new items but some of them do not appear in the target folder of the task.
To solve this problem, it is necessary to restart the C2ExchangeSync service.
Run CodeTwo Exchange Sync administration module
Click Settings button
In the Synchronization service settings press the Stop service button and after the service stops, press the Start service button (Fig. 1).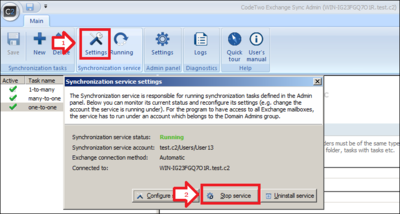 Fig. 1. Program's ribbon with the service control buttons marked in red.
After restarting the service, the program will synchronize all items from the source folder.
---
| | |
| --- | --- |
| Related products: | CodeTwo Exchange Sync |
| Categories: | Troubleshooting |
| Last modified: | 2014-10-02 |
| Created: | 2010-05-19 |
| ID: | 141 |