How to use Office 365 signature in iOS OWA app
This article is meant for users of CodeTwo Email Signatures for Email Clients. This software has been discontinued. If your organization uses Office 365, check out CodeTwo Email Signatures for Office 365.
Problem:
How to configure OWA for iPhone to use the same signature as in Outlook on the web (OWA 365).
Solution:
By default the iOS OWA app is not configured to use the same signature template as the one set in Office 365 account for use with OWA 365. OWA for iOS will just stamp all outgoing emails with 'Sent using OWA for iPhone' regardless of OWA 365 signature settings. You can, however, easily change this behavior.
Please note that only plain text signature template is possible to set.
Follow the steps below to change the OWA for iOS signature settings (the screens are taken from iPhone 5 but it should be similar for other iOS devices):
Launch OWA app on the iOS device.
Browse the main ribbon and tap the gear icon to open the OWA configuration screen (Fig. 1.).
Tap the Email signature option (Fig. 2.).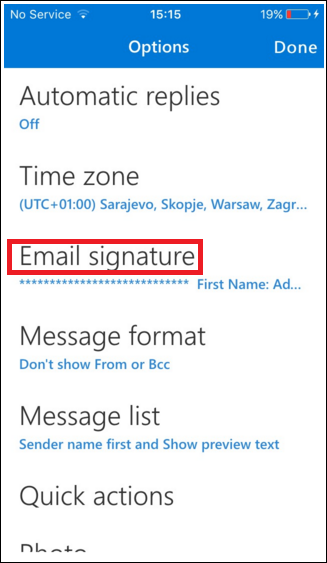 Fig. 2. iOS OWA email signature option.
Make sure the Include signature choice - 1 is checked as well as Use my signature from Outlook on the web - 2 (Fig. 3.).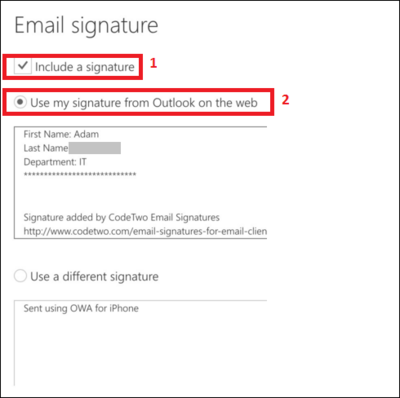 Fig. 3. iOS OWA default signature.
Restart the iOS OWA app.
From now on all your messages sent via iOS OWA configured for the Office 365 account will get stamped with the defined signature.