Message from an Apple device is sent in plain text
Problem:
The message sent from Apple device (iPhone, iPad, iMac) is in plain-text format, therefore a signature added by CodeTwo software does not look as expected. The problem persists even when you choose to use Rich Text format in Apple Mail client.
Be aware that naming convention of Apple does not meet Microsoft's one entirely. While Microsoft refers to Rich Text as a separate document format (RTF), Apple Mail application refers simply to HTML code.
Solution:
The cause of this problem is a default behavior of Apple Mail application. While replying, forwarding or composing new messages, Mac client automatically uses Plain Text or HTML format. Unfortunately, even if you set the default composing format to 'Rich Text' in application preferences, it will not always work. Creating a message without using any text formatting results in the mail client using a Plain Text format regardless of the email client settings and the original message format. Such behavior has been observed also in earlier versions of Mac OS X.
You can solve this issue:
If you do not use the above applications and you are trying to fix this problem on a Mac, follow these steps:
Open Mail client on your Mac computer.
Click on the top menu Mail, and then Preferences.
Switch to the Composing section (Fig. 1.).
Set the Message Format to Rich Text.
Start composing a new message applying some formatting at least once (it will be enough if you just bold the text).
Send the message.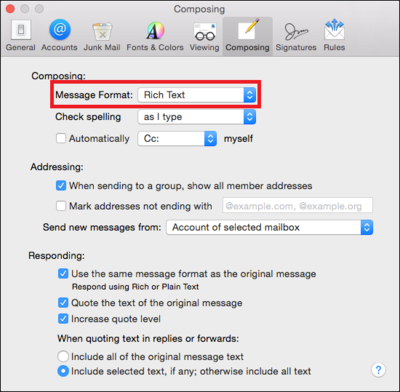 Fig. 1. Composing preferences in Apple Mail.
The message should be stamped with HTML version of signature, providing that HTML signature template was properly configured in CodeTwo software.
Please note, that Apple devices are not able to send messages directly in Microsoft's RTF format.