MAPI_E_NOT_ENOUGH_DISK error or MAPI_E_FAILONEPROVIDER (0x8004011d) error.
Problem:
Public Folders Outlook Add-in reports one of the following error messages in the log files or on the mobile application screen:
MAPI_E_NOT_ENOUGH_DISK

MAPI_E_FAILONEPROVIDER (0x8004011d)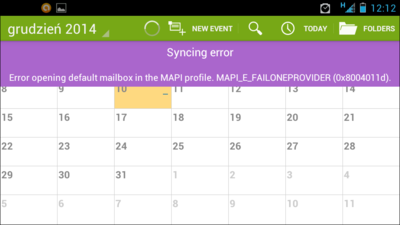 Fig. 1. One of the MAPI errors displayed in mobile application.
Solution:
This kind of errors are displayed when there is something wrong with either one of your CodeTwo data files (c2publicfolders.pst) or with one of Outlook data files. Please see the list of possible causes and solutions below. Be aware that the error messages themselves do not point at particular machine that causes the problem. Reviewing the chain of synchronization events recorded in the log files may be helpful but if you have small numbers of computers syncing it might be faster to just check the below on each of your machines:
Hard disk drive

is running out of space -

Free up some space.

The CodeTwo data file (

c2publicfolders.pst

) is corrupted - Follow the standard

PST refresh procedure

.

The CodeTwo data file (

c2publicfolders.pst

) size is close to or above the PST size limit:

Run the archiving tool available in the Microsoft Outlook program.

Change viewing rights for the selected folders in the Syncing Master administration panel to limit the number of synchronized folders.

Make sure that you are not subscribed to other users' shared private folders that could increase the size of your local CodeTwo data file (

c2publicfolders.pst

).

As a last resort, you can delete folders and files from

C2PublicFolders

folder tree.

The hard disk drive file system, where the CodeTwo data file (

c2publicfolders.pst

) is located, is formatted in the FAT32 standard. - If the hard disk drive or the partition, where the

c2publicfolders.pst

file is located, is in the FAT32 file system format, the standard PST size limit is reduced to only 4 GB. Convert the file system to the NTFS format or change the location of the PST file to the NTFS one. There is a number of programs allowing a file system conversion without formatting the hard drive or partition.
Outlook PST file is corrupted - Use Microsoft ScanPST tool to fix it.